Earn Your Gold Honestly in Valdora — By Digging For It
Earn Your Gold Honestly in Valdora — By Digging For It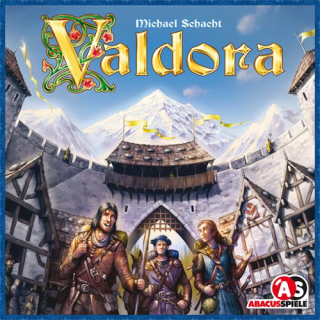 On March 10, I attended the Spring Auction at Games Plus in Mount Prospect, IL. I went chiefly in search of select fantasy games I've had my eye on for some time… but also in the hope of a surprise or two.
It didn't take long to get what I wished for, at least in terms of surprises. I wasn't in my seat ten minutes when an eye-catching box with three obvious adventurers on the cover came up for bid.
What the heck was this? The cover art — with snow-capped mountains, a medieval walled town, and three young lads decked out in standard issue dungeon-exploring garb — spoke of an adventure game, but I'd never heard of it. The box looked substantial (and expensive), and it appeared to be in great shape, but there's only so much you can tell sitting in a metal chair at an auction.
Bidding was brisk, and I didn't have much time to make up my mind. I took a chance, and seven seconds (and 15 bucks) later a nearly-new copy of Valdora was mine. Here's what I found on the back when I was able to examine it:
Hidden far away from our time lies a valley of unimaginable riches. Drawn by the lure of gold, silver, and precious jewels, adventurers from all over the world soon find their way there. While some of them still carefully choose commissions and provisions, others quickly rush off to bring valuable gems back to their patrons. But those who wish for fame and fortune will have to be cleverer than their opponents!
Peeking through the box there seems to be a dearth of dungeons, but plenty of Settlers of Catan-like strategy, with players working to acquire tools, complete commissions, and control workshops. Looks like you have to earn your gold and gems the old-fashioned way: by earning them. The components — including a colorful and detailed game board, gemstones, cards, tiles, coins, pawns, a sturdy fabric bag, and four wooden books — are excellent. It looks like a solid family game that I can force all of my children to play with me.
Valdora was designed by Michael Schacht and published by ABACUSSPIELE/Rio Grande Games. It was released in 2009, and has a list price of $74.99 — which makes my auction purchase at $15 a real bargain. Score another point for the Paris Fashion Week of Games.