March/April Fantasy & Science Fiction Magazine now on Sale
March/April Fantasy & Science Fiction Magazine now on Sale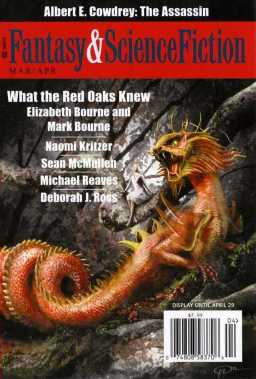 Holy cats, the latest issue of F&SF has been out for two weeks, and we haven't covered it yet. I'm asleep at the switch. It's only the most important fantasy magazine, period. I'll complete this post, and then submit myself for ritual flogging.
Let's see what Chuck Rothman at Tangent Online thinks of this issue. Unlike us, he got his review in on time:
"Solidarity" is a bit of dystopian fiction, set in the Seastead, a group of ships that have been turned into a floating city, where anything goes. Beck is the daughter of an important official and has been kicked out and has been cut off by him. She tries to scramble around in a place where nothing is free in the name of freedom and stumbles upon a potential political plot. Beck is a great character and Naomi Kritzer portrays a chillingly realistic society… This is primarily an adventure, but the well-thought-out setting makes it an excellent read…

Andy is "The Assassin" in a story by F&SF regular Albert E. Cowdrey. He failed once when his target turned out to be a hologram and is going back to finish the job… The story follows Andy's life and how it intertwines with Faith as he makes it through a hellhole prison to a form of happiness. The story never stops being fascinating and the characters — even the ones who might be clichés — never stop being surprising.
Fiction this issue includes:
NOVELETS
"Among Friends" – Deborah J. Ross
"Solidarity" – Naomi Kritzer
"The Assassin" – Albert E. Cowdrey
"The Lost Faces" – Sean McMullen
SHORT STORIES
"The Cave" – Sean F. Lynch
"Code 666" – Michael Reaves
"What The Red Oaks Knew" – Elizabeth Bourne and Mark Bourne
"The Boy Who Drank From Lovely Women" – Steven Utley
"The Long View" – Van Aaron Hughes
"The Trouble With Heaven" – Chet Arthur
POEMS
Dislocated Heart/ A Starpilot's Post-Operation Note – Robert Frazier
The cover price is $7.99 for a thick 258 pages. The cover is by Maurizio Manzieri, for "What the Red Oaks Knew."
Additional free content at the F&SF website includes book reviews by Charles de Lint and James Sallis, film reviews by Kathi Maio, "Plumage From Pegasus: Kozmic Kickstarter" by Paul Di Filippo, Coming Attractions, and a Curiosities column by Richard A. Lupoff. Cartoons this issue are by Bill Long and J.P. Rini.
We last covered F&SF here with the Jan/Feb issue.