January/February Fantasy & Science Fiction Magazine now on Sale
January/February Fantasy & Science Fiction Magazine now on Sale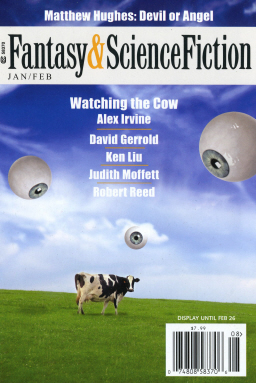 The new issue of Fantasy & Science Fiction goes on sale today. Not often you see cows (or floating eyeballs, for that matter) on the cover. Louis West reviews the issue at Tangent Online; here's what he says about the cover story:
This issue of F&SF contains a diverse and (mostly) entertaining selection of SF, horror, and fantasy stories. Many of the authors have a long history of producing award-winning work. For the most part, that excellence is displayed throughout this issue.

"Watching the Cow," by Alex Irvine, is masterfully told. Once started, I couldn't stop. I had to know how it would end, and the end was nicely unexpected….

Ariel, the genius of the family, has accidently blinded two million teens who had been playing a game using VR goggles. And two of the kids were her brothers. But it wasn't a physical blindness. All the parts still worked. The brain simply had stopped processing the visual data. The kids didn't seem bothered at all, although the parents freaked and conspiracy theories thrived.

Ariel was determined to fix the problem, and her angry brother believed her. Instead of sight, all the kids could now mentally network with each other… This story is told from Ariel's brother's POV. It follows his emotional roller-coaster ride as he deals with what's happening to his kids, their lack of reaction, keeping the secret that his sister had caused the problem and wondering when the FBI will finally catch up to him and Ariel. A pleasure to read.

Fiction this issue includes:
NOVELETS
"Watching the Cow" — Alex Irvine
"Devil or Angel" — RMatthew Hughes
"The Blue Celeb" — Desmond Warzel
"Ten Lights and Darks" — Judith Moffett
SHORT STORIES
"Night Train to Paris" — David Gerrold
"A Brief History of the Trans-Pacific Tunnel" — Ken Liu
"This Is How You Disappear" — Dale Bailey
"A Haunting in Love City" — Albert E. Cowdrey
"Among Us " — Robert Reed
The cover price is $7.99 for a generous 258 pages. The cover is by Chris Piccinetti.
Additional free content at the F&SF website includes book reviews by Charles de Lint and Michelle West, film reviews by Lucius Shepard, science column "The Great Atmospheric Escape" by Pat Murphy & Paul Doherty, Coming Attractions, and a Curiosities column by Stefan Dziemianowicz.
We last covered F&SF here with the Nov/Dec issue.