More Bad News for 'Zines: Reader's Digest Files For Bankruptcy
More Bad News for 'Zines: Reader's Digest Files For Bankruptcy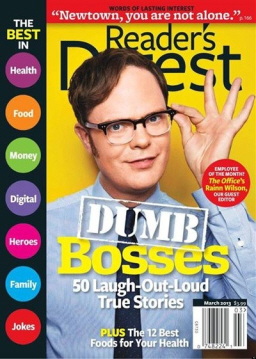 Reader's Digest, the most widely-purchased magazine in the world, has filed for bankruptcy protection for a second time.
Reader's Digest was founded in 1922; it is currently published in more than 70 countries, with 49 editions in 21 languages. Not long ago, it had a worldwide circulation of over 10 million copies per month, making it the largest paid circulation magazine on the planet.
The magazine emerged from bankruptcy in 2009, selling off assets to lower its debt — including cooking website Allrecipes.com (sold for $180 million) and sister magazine Every Day With Rachael Ray (for $4.3 million). Its paid circulation fell to 5.5 million at the end of 2012, making it the fifth-biggest consumer magazine by circulation in the U.S., behind two publications from the AARP, Game Informer Magazine, and Better Homes and Gardens.
The magazine filed for Chapter 11 protection in an attempt to cut debt; it is hoping to convert about $465 million of debt into equity held by its creditors. Reader's Digest has about $1.1 billion in assets and slightly under $1.2 billion in debt, and has arranged roughly $105 million to keep it afloat during bankruptcy proceedings.
The news follows a lengthy obituary list for magazines in 2012, including the 80-year old Newsweek, which published its last print issue in December, music magazine Spin, Nintendo Power, Whole Living, American Artist, and many others. Fantasy fans lost the print version of the excellent New York Review of Science Fiction in 2012, which converted to digital format last spring.