Rue Morgue Magazine's 200 Alternative Horror Films You Need to See
Rue Morgue Magazine's 200 Alternative Horror Films You Need to See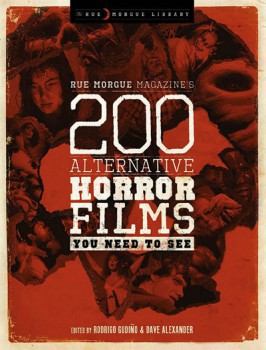 I had a clever title in mind for this post, something about a book you need to see, but the name of the book was so long nothing else would fit. Rue Morgue Magazine's 200 Alternative Horror Films You Need to See. See what I mean? Damn near had to start a new paragraph just to say it again.
200 Flicks (which we'll be calling it going forward) is a marvelous little treasure I found on the B&N magazine rack while digging around for the latest issue of Fantasy & Science Fiction. I'm vaguely aware of Rue Morgue magazine (and should probably be moreso, granted), but that wasn't what caught my eye. No, it was the title, and the fact that this perfect bound "magazine" is an impressive 162 pages.
I flipped through it, and was sold instantly. This is the kind of invaluable reference work I'll be drawing on for years. It's packed to the brim with text, with plenty of color stills and crisp reproductions of 200 movie posters and DVD covers. The heart of the book is the carefully-selected collection of well written and informative reviews of overlooked horror films.
A quick check showed many of my favorites are here, including a guilty pleasure or two: Session 9, Let the Right One In, Psycho II, Something Wicked This Way Comes — and plenty more that I'm not familiar with. And isn't the joy of discovery the true reason you lay your money down for this kind of thing?
The entries are organized alpahbetically, but it's really something you browse rather than read cover-to-cover. It has numerous lists: 10 Made for TV Terrors You Need to See, 10 Foreign Zombie Films You Need to See, plus lists covering vampire flicks, foreign zombie movies, family fright fests, gore films, slashers, and many more. There are also interviews with directors and film personalities like Guillermo del Toro, Tobe Hooper, Roger Corman, Fred Dekker, Larry Cohen, Stuart Gordon, and others.
The book is so inexpensive (a criminally low $9.99, or $4.99 for the digital version) and so packed with content that the only way it can possibly be a money-making venture is if it's primarily recycled material from Rue Morgue magazine. Which is fine by me — if the magazine is a fraction as interesting and entertaining, I'll be getting a subscription.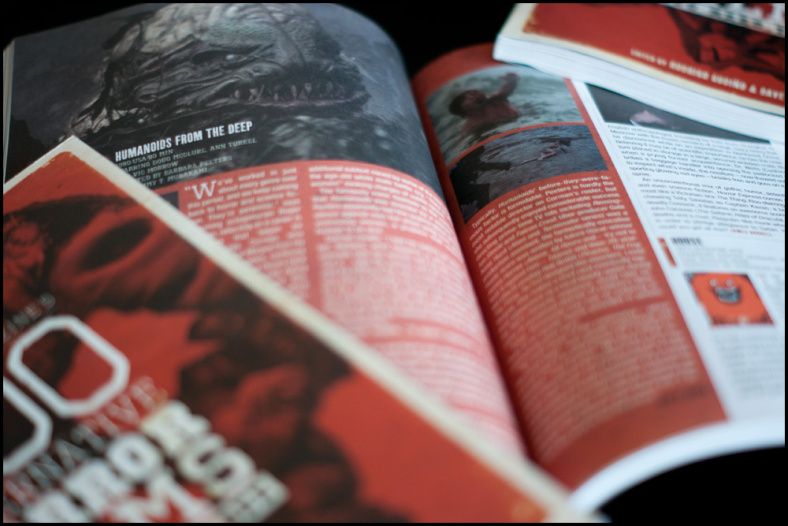 Rue Morgue Magazine's 200 Alternative Horror Films You Need to See was published December 15 by Marrs Media. It's available at the Rue Morgue website and — if you act quickly — in the magazine rack of your local bookstore.