Vintage Treasures: The Little Book of Vintage Sci-Fi
Vintage Treasures: The Little Book of Vintage Sci-Fi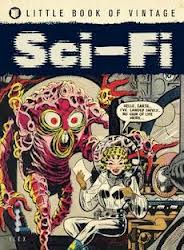 It's a great time to be a Golden Age comics fan. If you're interested in high-priced, archival-quality reproductions of 1950s science fiction and horror comics, there are plenty on the market.
This isn't one of them.
The Little Book of Vintage Sci-Fi, in fact, is a tiny marvel of affordable comics nostalgia in a sea of overpriced hardcovers. It makes no pretense of offering complete issues, or highly collectible authors and artists, or re-colored anything. But for less than the price of a crummy SF paperback, it offers 112 full-color pages of gonzo Golden Age greatness from an assortment of impossible-to-find comics.
Opening with an 8-page introduction by Tim Pilcher, covering the history of 50s sci-fi comics in surprising detail, The Little Book of Vintage Sci-Fi contains five complete tales, including Explanation, Please! No. 1 Falling Frogs, and Out of the Unknown No. 1: Creature From the Crater. In between are glorious covers from Outer Space, Forbidden Worlds, Adventures Into the Unknown and others, depicting crashing alien spacecraft, stolen moons, and skyscraper-destroying dinosaurs.
There are even full-color reproductions of the classic advertisements that mesmerized me as a kid, including the "Jet" Rocket Space Ship — over six feet long, with levers that work, for only $2.98! — and the 98-cent Sensational Televiewer.
The Little Book of Vintage Sci-Fi was published on April 1, 2012 by Ilex Gift. It is $5.95 for 112 pages, and is one of a set of Little Books from the same publisher, all edited by Tom Pilcher. The others cover Vintage Horror, Sauciness, Crime , Combat, Terror, Romance, and Space. Collect them all!