Electric Velocipede 25 Now Available
Electric Velocipede 25 Now Available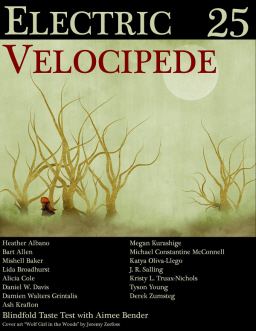 John Klima's groundbreaking magazine Electric Velocipede continues to innovate in its new electronic format. John tells us:
This is one of our strongest issues to date. I'm very proud of the stories and poems (nine!) in it. The stories will be going up through bi-weekly through the end of the year, but we're putting the entire issue on sale right away so that people can get it now and read it on their e-reader of choice… Our first story, "The Night We Drank Cold Wine" by Megan Kurashige has received incredible response from readers to date.

Many of you are already helping spread the word about the issue, but because I think it's pretty special that we're at our 25th issue (with four issues planned for next year!)
Let's talk turkey for a moment. Electric Velocipede is one of the best independent genre magazines out today, period. It's been nominated for the World Fantasy Award four times and won the 2009 Hugo Award for Best Fanzine.
In September, it closed a successful Kickstarer round, funding the next four issues, and even reached the $7,500 stretch goal that allowed it to make electronic versions of all its past issues.
It's an exciting time for the magazine and if you're not paying attention, you're missing out on some of the most exciting short fiction the field has to offer.
The contents of issue 25 became available in a rolling fashion starting on November 26, and the entire issue will be available for free by December 20.
The fiction includes:
Novelette
"Musici" by Derek Zumsteg
Short Stories
"The Greatest of His Age" by Bart Allen
"Butterfly Effect" by Mishell Baker
"Glass Boxes and Clockwork Gods" by Damien Walters Grintalis
"The Night We Drank Cold Wine" by Megan Kurashige
"The Master Shoemaker" by Katya Oliva-Llego
"North" by Kristy L. Truax-Nichols
"The Woods of Wistman's Grove" by Tyson Young
Nonfiction
"Blindfold Taste Test" with Aimee Bender
A Remembrance of the Future by John Klima
Issue 25 of Electric Velocipede is available for free online here. We last covered Electric Velocipede with issue 24.