Dive Into a Bleak Future with Anomaly
Dive Into a Bleak Future with Anomaly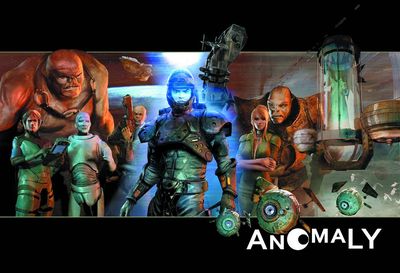 Reviewing a cool new book or game for Black Gate used to be easy. Sit down in my big green chair for a few hours, type up my thoughts, and then I'm free to spend the rest of the day polishing my Bone action figures.
That was before Anomaly, the massive 370-page graphic novel from Spawn artist Brian Haberlin and Pixar board member Skip Brittenham. Anomaly is a groundbreaking glimpse into the future, in more way than one.
First off, this thing is massive. The huge 7-pound hardcover is a full 15 inches by 10 inches, just slightly smaller than a Buick. Make sure you sit in a sturdy chair to read it (and maybe do some wrist exercises to limber up first). It's so big they had to create a new publishing company just to get it out the door: Anomaly Publishing.
Second, it comes with something called Ultimate Augmented RealityTM, which means that to thoroughly experience the book I had to have the right gadgets. Following the instructions, I innocently pointed my iPhone at page 7. A 3-D image of a clicking alien popped up on my screen, moving around and making alien-guy sounds. When my son tried to flip the page, alien dude fell over.
"It's a 3D representation that obeys the laws of gravity," Tim noted. "Boggles the mind," his brother Drew agreed.
Finally, Anomaly offers a more traditional glimpse into the future through its story, a space opera set in 2717, when humanity has conquered the stars and is in turn controlled by The Conglomerate, a profit-focused corporation that rules with an iron fist. Jon is a disgraced ex-enforcer for The Conglomerate, doing menial jobs in high orbit over a poisoned planet Earth, when he's given a second chance: to protect the daughter of a high-ranking executive on a daring first contact mission. There's more going on than meets the eye, however, and the high-stakes mission quickly goes off the rails as the explorers encounter lethal terrain, deadly mutants, strange magic, and corporate intrigue and betrayal on a mysterious world.
Anomaly is 370 pages (314 of story and another 56 of appendices) from Anomaly Publishing. It will be published December 1, 2012, with a cover price of $75. Check out the cool YouTube promo video here.