Vintage Treasures: Solomon Kane: The Hills of the Dead, by Robert E. Howard
Vintage Treasures: Solomon Kane: The Hills of the Dead, by Robert E. Howard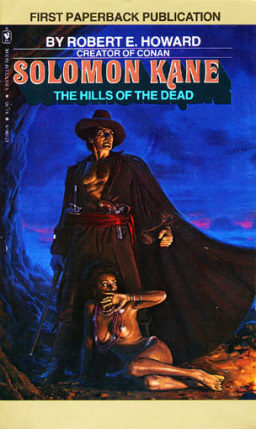 With all the recent discussion around these parts about Conan and Robert E. Howard, I figured the best use of my time this week would be to sit back and enjoy some genuine Robert E. Howard.
With output as vast as Howard's, the biggest challenge was choosing what to read. One of my favorite Howard pieces is "Skulls in the Stars," a genuinely creepy tale in which Solomon Kane investigates a moonlit moor trail haunted by a vindictive spirit, so I decided on Solomon Kane: The Hills of the Dead. It was the second Kane paperback published by Bantam Books (the first was Solomon Kane: Skulls in the Stars, in December, 1978). The striking cover is part of a fold-out poster by Bob Larkin.
In a world ruled by piracy, stalked by vampires, peopled by cities of the inhuman, he stood tall amid the terrors of the Dark Continent. Kane, a man of savage and unconquerable courage, strode deep into the jungles, forever slashing his diamond-edged rapier as evil guided the creatures of the night toward him. Wicked whispers of death touched him. Haunted horrors of the world beyond life reached for him. But Kane never halted his march, for he would never rest until the final, epic duel between light and dark was waged… and won.
Disappointingly, I discovered the contents are not pure Howard — in fact, two of the five stories within were completed by Ramsey Campbell, who also provides the introduction.
Introduction: The Mystery of Solomon Kane, by Ramsey Campbell
"The Hills of the Dead"
"Hawk of Basti" (completed by Ramsey Campbell)
"The Return of Sir Richard Grenville" (poem)
"Wings in the Night"
"The Footfalls Within"
"The Children of Asshur" (completed by Ramsey Campbell)
"Solomon Kane's Homecoming" (poem)
Still, these's lots here to enjoy. I'm especially pleased to see the poetry, and Campbell's introduction, which as far as I know is unique to this volume.
Solomon Kane: The Hills of the Dead was published in paperback by Bantam Books in March, 1979. It is 141 pages, with a cover price of $1.95.