New Treasures: Stories, edited by Neil Gaiman and Al Sarrantonio
New Treasures: Stories, edited by Neil Gaiman and Al Sarrantonio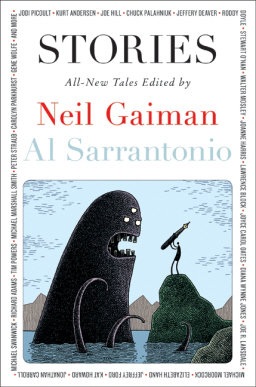 Yeah, I know I'm late to the party with this one. Stories, the high-profile original anthology edited by Neil Gaiman and Al Sarrantonio, was released over two years ago — back in June of 2010.
But I have a good excuse. Despite the incredibly awesome cover by Tom Gauld, after my first glace at the table of contents, I dismissed Stories as a mainstream anthology.
I mean, come on. Walter Mosley, Jodi Picolut, Joyce Carol Oates, Joanne Harris, Lawrence Block, Roddy Doyle, and Chuck Palahniuk? You'd have made the same mistake.
Eventually, I picked up enough on the buzz around this book to realize that its claim to being a "groundbreaking anthology that reinvigorates, expands, and redefines the limits of imaginative fiction" wasn't just hyperbole. Many of the stories, including Neil Gaiman's "The Truth is a Cave in the Black Mountains" and Elizabeth Hand's "The Maiden Flight of McCauley's Bellerophon," began showing up on genre best-of-the-year lists.
I finally decided it was time to take another look. It didn't hurt that by then the hardcover was being offered at a bargain price at Amazon.com for 60% off (still in stock if you act fast).
Stories is by no means a straight-up fantasy anthology. But it includes some terrific fantasy fiction by some of the genre's biggest names, including Richard Adams, Michael Swanwick, Michael Moorcock, Peter Straub, Gene Wolfe, Tim Powers, Joe Hill, Michael Marshall Smith, and Joe R. Lansdale.
And I think you'll be surprised by the contributions of the writers I mentioned above — who aren't known for writing fantasy — as well.
Here's all 27 stories on the table of contents:
"Blood" by Roddy Doyle
"Fossil-Figures" by Joyce Carol Oates
"Wildfire in Manhattan" by Joanne Harris
"The Truth is a Cave in the Black Mountains" by Neil Gaiman
"Unbelief" by Michael Marshall Smith
"The Stars are Falling" by Joe R. Lansdale
"Juvenal Nyx" by Walter Mosley
"The Knife" by Richard Adams
"Weights and Measures" by Jodi Picoult
"Goblin Lake" by Michael Swanwick
"Mallon the Guru" by Peter Straub
"Catch and Release" by Lawrence Block
"Polka Dots and Moonbeams" by Jeffrey Ford
"Loser" by Chuck Palahniuk
"Samantha's Diary" by Diana Wynne Jones
"Land of the Lost" by Steward O'Nan
"Leif in the Wind" by Gene Wolfe
"Unwell" by Carolyn Parkhurst
"A Life in Fictions" by Kat Howard
"Let the Past Begin" by Jonathan Carroll
"The Therapist" by Jeffrey Deaver
"Parallel Lines" by Tim Powers
"The Cult of the Nose" by Al Sarrantonio
"Human Intelligence" by Kurt Anderson
"Stories" by Michael Moorcock
"The Maiden Flight of McCauley's Bellerophon" by Elizabeth Hand
"The Devil on the Staircase" by Joe Hill
Stories was published by Morrow in June, 2010. It is 428 pages in hardcover, originally priced at $27.99. It's now sold online for $11.20, and I've seen it for less at my local bookstore. The trade paperback reprint hit shelves in 2011, and the digital version is just $7.99.