New Treasures: Chrysanthe by Yves Meynard
New Treasures: Chrysanthe by Yves Meynard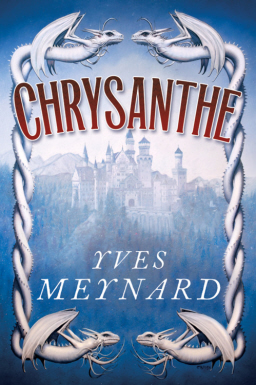 I first met Yves Meynard at the World Fantasy Convention in Montreal in 2001. Yes, that was the year of 9/11, when the entire country stopped flying for weeks. I still remember my flight into Montreal… it was scarcely a month after the attacks and the cabin was virtually empty. You could wander around and take whatever seat you wanted.
Sadly, the same was more or less true of the convention. The World Fantasy Convention typically sells somewhere around 1,000 memberships, but a lot more were sold than used that year. Some estimates put the number of attendees at around 200. Whatever the case, it was the smallest and most intimate convention I've ever attended.
Which wasn't wholly a bad thing. I remember the convention chiefly for the many great conversations I had. I'd lived in Ottawa — less than two hours away — until 1987, and this was a chance to re-connect with Canadian friends, including Mark Shainblum, Don Bassingthwaite, Claude Lalumiere, Rodger Turner, and Charles de Lint. In short order, I found myself introduced to some of the best French Canadian fantasy writers on the scene, including Jean-Louis Trudel and Yves Meynard.
I hit it off with Yves immediately. He was a fellow editor, the literary editor for French Canadian SF magazine Solaris, and his widely-praised first novel, The Book of Knights, had been published by Tor in 1999.
He was already being recognized as a major talent. Ursula K. Le Guin called The Book of Knights "An unpredictable, brilliantly imaginative, and very engaging fantasy," and Locus magazine, commenting on editor David Hartwell's annual accomplishments, said:
In terms of both mature craft and originality of imagination, Hartwell's major discovery this year has to be the French-Canadian writer Yves Meynard.
Yves turned out to be a fascinating guy with a deep appreciation of Canadian fantasy in both French and English. He wrote fluently in both languages, a skill I envied, and we had several great talks.
I ran into Yves again at Worldcon three weeks ago. His career has taken off nicely since Montreal, and his epic fantasy Chrysanthe had just been published in March by Tor.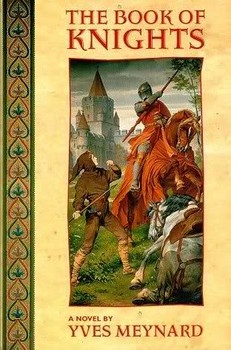 Already being compared to Roger Zelazny's Chronicles of Amber, Chrysanthe has been getting a lot of attention. I picked up a copy at the convention, and it has quickly migrated to the top of my to-be-read pile.
Here's the description:
Christine, the princess and heir to the real world of Chrysanthe, is kidnapped as a small child by a powerful magician and exiled in a Made World that is a version of our present reality. In exile, supervised by her strict "uncle"(actually a wizard in disguise), she undergoes bogus memory recovery therapy, through which she is forced to remember childhood rape and abuse by her parents and others. She is terribly stunted emotionally by this terrifying plot, but at seventeen discovers it is all a lie. Christine escapes with a rescuer, Sir Quentin, a knight from Chrysanthe, in a thrilling chase across realities.

Once home, the magical standoff caused by her exile is broken, and a war begins, in spite of the best efforts of her father, the king, and his wizard, Melogian. And that war, which takes up nearly the last third of the work, is a marvel of magical invention and terror, a battle between good and evil forces that resounds with echoes of the great battles of fantasy literature.
It's a bit of a mystery why the subtitle on the Tor trade paperback reads Chrysanthe: The Complete Saga, since I can find no evidence of it being published in any other edition, incomplete or otherwise. But I suppose that will all become clear as I read it.
Chrysanthe was published by Tor Books in March, 2012. It is 496 pages and priced at $15.99 in trade paperback or $9.99 for the digital edition.