Vintage Treasures: Into the Aether, by Richard A. Lupoff
Vintage Treasures: Into the Aether, by Richard A. Lupoff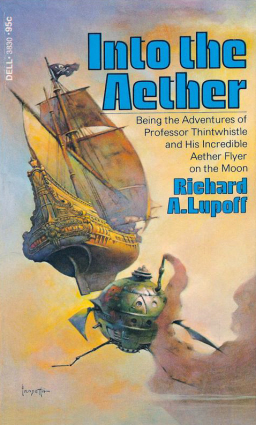 Whew. What a week. About two hours ago I returned from Canada, where my family celebrated my mother's 75th birthday on the shores of Lake Huron. It was great to see everyone again, even if it did mean sixteen hours of driving — and writing my last few blog articles in advance, so I could schedule them for publication while I was on the road.
Now that I'm back, I'm pretty tuckered. All I want to do is curl up next to a window, watch the wind and the rain, and read a good book. I'm not up to any of the imposing fat fantasies that pass for novels these days, and as I made a pass through my library, my hand alighted on a slender paperback from 1974 with an enticing Frazetta cover: Richard A. Lupoff's Into the Aether.
Subtitled "Being the Adventures of Professor Thintwhistle and His Incredible Aether Flyer on the Moon," it looks like just the kind of fantasy romp I need tonight. Here's the enticing text on the back cover:
When the 'Chester A. Arthur', the world's first and only coal/steam/paddlewheel-propelled spaceship rose into the skies over Buffalo Falls, Pa., who would have expected what followed?

Will Professor Thintwhistle and his crew be able to return to earth? Will Miss Taphammer ever find them? Will Jefferson Jackson Clay's foul plot succeed? And what of the King of the Cats?

Find the answers to these and more thrilling questions in Into the Aether.
Richard A. Lupoff was fairly respected among my circle of discerning science fiction readers when I first purchased it, lo those many decades ago. His most popular novel was probably Sandworld, featuring as it did a desert planet and alien vampires, but his sword & sorcery epic Sword of the Demon was also highly regarded. I've never had a chance to read Into the Aether though, and it sounds like a lot of fun.
One of the definite rewards of having a library is that no purchase is ever truly wasted. I'm not sure precisely how long this book has been patiently waiting on my shelves, but for the next few hours I expect to be happily transported back to 1974. And from there, on to the moon.
Into the Aether was published in January 1974 by Dell. It is 220 pages in paperback, with an original cover price of 95 cents.