Goth Chick News: Chicago Comic Con 2012: The Best (Creepy Stuff) at the Con
Goth Chick News: Chicago Comic Con 2012: The Best (Creepy Stuff) at the Con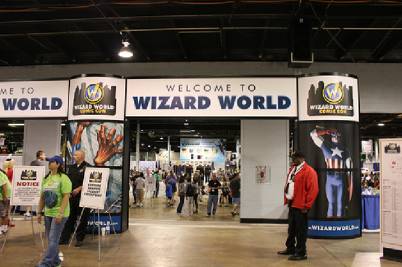 Once again, it's time to welcome the pop-culture bacchanalia that is Wizard World's Comic Con back to Chicago; and this year's event was bigger and more chocked full of celebrities, costumes ,and other "things that make you go umm?" than ever before.
Wizard World, Inc produces Comic Cons across North America that celebrate (and oh how they celebrate!) graphic novels, comic books, movies, TV shows, gaming, technology, toys, and social networking. The events feature celebrities from movies and TV, artists and writers, and events such as premiers, gaming tournaments, panels, and costume contests – this year was no exception.
And splattered amongst the super hero paraphernalia and 8-sided dice is enough tasty tidbits to make Comic Con a Goth Chick News favorite.
So as we prepare to wade into the sea of gratuitous spandex which is inexplicably drawn into the orbits of talented artists and other creative types wherever they gather, rest assured that if you missed out on San Diego or Chicago, fear not:  click here for a list of cities where there is still time to partake this year, or begin planning your road trip for 2013.
Now stay close, keep track of your buddy, and whatever you do, don't talk to the shirtless guy in the unicorn costume.
Let's go in…
As anticipated, the first shiny (bloody?) object that caught our attention is a semi-new haunted attraction right here in our beloved Windy City.
Fear City, which is enjoying its second year catering to the Chicago metro crowd, and Hades, a new addition to the team's repertoire, are the product of a Chicago-based, Emmy award-winning set-design team (they actually worked on Oprah – which is scary indeed).
As Joe Jensen, Fear City partner and Chicago-area haunted house purveyor said in the official press release:
They're not your standard slash-house type haunted houses; not an overwhelming amount of gore. We like to delve deeper into the art of the production — our rooms are suspense-driven and beautifully eerie. Both houses, which offer completely different experiences, are located in a 40,000-square-foot warehouse that we've had a lot of creative fun building out; it's really a dream to work with this team and actualize all of the scary ideas we've visualized so accurately. People are going to have a great time.
Fear City brings to life an apocalyptic Chicago as pop-culture meets the end of time in a deadly, realistic depiction filled with zombies, aliens, and plagues, involving nearly 100 live actors and interactive displays. Hades will depict the mayhem of the mythological underworld as it melds a visual-art performance of a trip to Hell.
Makes me quiver all over…
But here's the really cool part.
The guys behind Fear City have agreed to let Black Gate have a "behind the screams" look at what goes into producing a professional haunted attraction.  Stay tuned next week for a feature that will give you a peek at the creative process and crazy logistic preparation involved in making you shriek like a little girl.
And if the creepy chick they had walking around Comic Con is any indication, this is going to be good.
In that same vein (get it?), we had the pleasure of meeting Joe and Tony Kosar and learning about their family-owned company Kosart Effects Studios.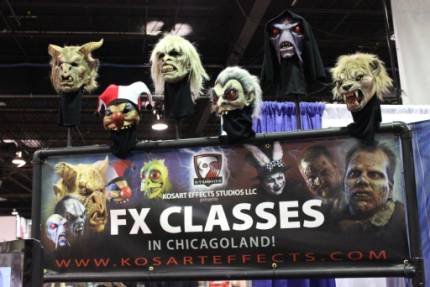 What is Kosart?  Tony describes it this way:
Twisted somewhere between the then and now, visions have plagued me, and art is my only antidote. Refining my skills and techniques to anatomically draw the figure, focusing on rendering with intricate detail through many media, the characters and creatures conjured reflect a relationship between themselves and their environment, often in tales of innocence, dark romance, duality, and fear.
Okay, you've got my attention.
But Tony is selfless in his dark and twisted nature.  He's willing to share it with everyone via classes with titles like The Art of Make-Up FX, The Art of Mask Making and Monster Dentures.
Tony personally teaches the classes where you will learn the professional process of how to design and create effects for film, theater, media, or for your own personal pleasure.  Beginning with theatrical make-up fundamentals, you will learn how to design character and age make-ups, as well as injury and wound simulation make-ups.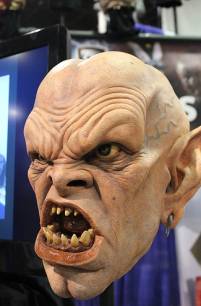 Wound simulation…?
Don't call me for the next few weekends, I'm… uh… otherwise engaged.
But that's not the end of it.
Joe and Tony also encourage the expression of the shadowy side of art and provide it with a forum where you too can learn to appreciate the dark side.
They are the spectral patrons of the Annual Maleficium Dark Art Exhibition.  "Maleficium" is a Latin term meaning "mischief" and is used to describe black magic and the dark arts – naturally.
The name was selected to represent the yearly exhibit as a metaphor for the Halloween-inspired artwork.  So if you have a room full of off-beat musings in pen, ink or oils, click the link and find out how to have your masterpieces included in the upcoming November exhibition.
You know who you are.
Closely associated with Kosart and providing the latex prosthetics used in their special make-up effects comes Zagone Studios.
For over 40 years, Phil and Bob Zagone have been making the Halloween masks that you probably recognize from your local costume shop (and 12 other countries around the world). Zagone Studios cranks out 130,000 masks annually; each being handmade beginning to end, including the 100,000 with teeth which are all hand-painted.  Their signature product line is "movable masks" made from latex so thin that it moves along with your face.
This year they introduced a line of partial masks which star in the Kosart Art of Make-Up FX classes.
Zagone Studios isn't open to the public but that never stopped Goth Chick News. We shamelessly buttered up the Kosar brothers for an introduction, so watch this space for insider info on how to create a look that will scare the snot out of those pesky neighborhood kids this Halloween.
Until then, click here to peruse the Zagone inventory.
Lest you think we didn't make full and shameless use our Black Gate press creds to schmooze with the plethora of Comic Con's celebrity guests, you're dead wrong.  Staff photographer Chris Z and I could never be accused of such a thing.
And here's the proof.
Have you caught episodes of the new SyFy Channel show Monster Man?  If you have, congrats on finding one of the most interesting and entertaining offerings in the loose category of "reality television."
If not, tune into SyFy on Wednesdays at 10/9c and see what you've been missing.
Monster Man goes behind the scenes of one of Hollywood's most respected monster prop building workshops.  For more than thirty years, when studios want a bizarre creature or out-of-this world alien, they've turned to Cleve Hall and his very unique family business.
Hall has been in the prop design game since he was a teenager. Monsters are his specialty (which fits the personality of a man who dresses in all black, drives a hearse, and is currently in the running for Goth Chick News Man-of-the-Year).
Hall has created masterpieces for big budget films for Paramount Pictures, DreamWorks, Warner Bros and Disney, including How to Train Your Dragon, Ed Wood and Pee Wee's Big Adventure.
Additionally, he has worked with rock bands such as KISS, creating Gene Simmons' "demon armor," as well as Insane Clown Posse, Alice Cooper, Tenacious D and DEVO.
All that being said, we found it infinitely amusing that Mr. Hall and his daughter Constance (do NOT call her "Connie") were positioned in a booth next to Adrianne Curry – first winner of American's Next Top Model and ex-wife of Christopher Knight (aka Peter Brady).
Understandably, the Halls looked as though they couldn't wait to get home to vivisect their PR person, but still graciously agreed to sit down for a chat with Goth Chick News on the condition we didn't ask them any questions they have been asked in other interviews.  After some careful research we hope to introduce you to them properly.
Stand by.
Other Hollywood close encounters included Kevin Sorbo (Hercules and Andromeda), who was really excited about playing rounds at Golf Club of Chicago, Bulter, and Medinah while he was in town; Tom Felton (Draco Malfoy in the Harry Potter films), who needed advice on where to score a traditional Chicago deep dish pizza; and Sean Young (Blade Runner and Celebrity Rehab) who seemed pretty normal and sober on the day we met her.  She kindly agreed to sign a picture for Mr. Goth Chick, who has never stopped wanting a replicant of his own.
---
A very special thanks to Black Gate staff photographer Chris Z for contributing his talent and earning his "Goth Dude" credentials.  Have a question or comment?  Post it here or drop a line to sue@blackgate.com.