Solomon Kane Crosses the Atlantic to U.S. Movie Theaters in September
Solomon Kane Crosses the Atlantic to U.S. Movie Theaters in September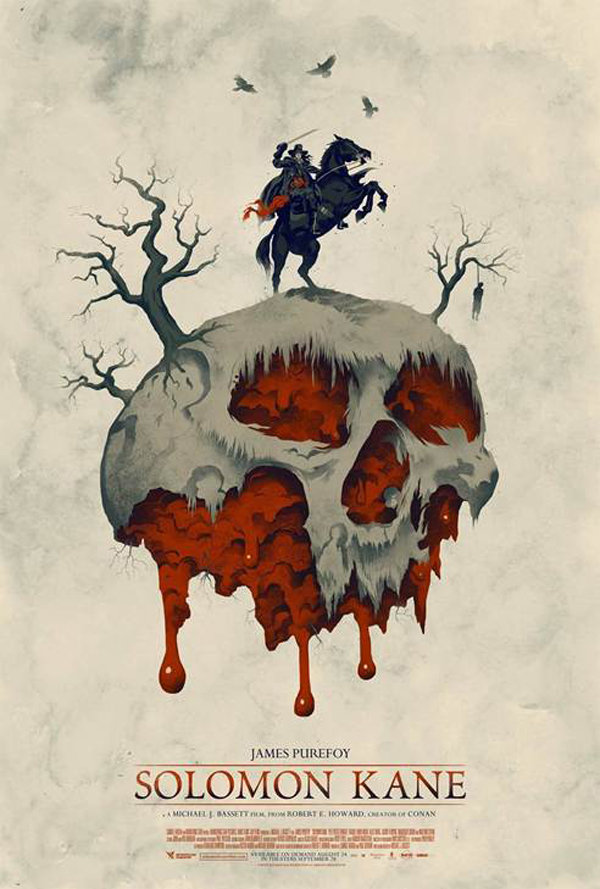 Update: My review.
Next month, we colonials will finally have the chance to view Solomon Kane, the film version of Robert E. Howard's famous puritanical hero, in movie theaters. It has been a long sea voyage over the Atlantic: the movie, directed by Michael J. Bassett and starring James Purefoy in the title role, and co-starring Max von Sydow, Rachel Hurd-Wood, and the late Pete Postelthwaite, was released in England and other territories in 2009, but lacked a U.S. distributor. I almost gave up on the movie getting any kind of theatrical release, and expected it would one day find its way to the straight-to-DVD/Blu-ray market.
However, last week, Michael J. Bassett announced on his blog that the Weinstein Company's new division, Radius Films, had acquired Solomon Kane and would release it first on premium video-on-demand (already available if you want to spring for it) and then give it a theatrical release on September 28th. So mark the date and sharpen your rapier, people of the New World.
No word yet on how wide a release this will be, but I expect it will be "limited": select theaters in major US cities. As a Los Angeles resident, I'm confident I'll have it within easy driving range (I live in one of the most heavily theater-populated places in the city, and I can even guess right now which theater it will show at.)
Bassett's comments on the release pattern:
I currently have no details on the extent of that theatrical run but I suspect it will be what's called "key" areas — so probably 15 or so cities in the US. Not world beating and it's going to need lots of support to find the audience but there'll be enough interest to hopefully put Kane back on the map and in a place where we can sensibly talk of sequels.
Sequels! Ambitious. Not holding my breath.
Bassett also unveiled the amazing alternate poster for the US release, seen here. I'm in love with it: the pulp adoration dripping like the blood from this illustration is intoxicating. I want it on my wall now.
What about the movie itself? Since it's been available in many English-speaking territories for three years and to anyone who had a region-free DVD or Blu-ray player, there are already numerous reviews and opinions on the 'net. Here are two of them. Opinions I've heard from those I've personally talked to range from "dark and great!" to "Howard and Solomon Kane in name only." Since I haven't seen the movie, I have no observations to make at the moment, but those who have please weigh in on the comment thread.
Nonetheless, I will be in the theater on September 28 and will give Black Gate readers my opinion soon after.