New Treasures: Bentley Little's Indignities of the Flesh
New Treasures: Bentley Little's Indignities of the Flesh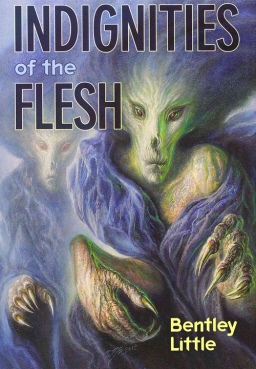 I try to keep up on the latest in horror, I do. But it's challenging. There's a lot of fresh talent emerging, exciting new work from established authors, and classic stuff I really should make time for. What do I buy, and what do I make time to read?
Lacking a real plan, I've fallen back on a tried-and-true strategy that introduced me to the best fantasy and science fiction decades ago: I buy the books with the best covers.
Which brings us handily to Indignities of the Flesh by Bentley Little. Isn't that a cool cover? Creepy claw-handed dudes, glowing blue hair, and cosmic-colored pajamas. I was reaching for my credit card before I'd finished reading the title. (Click on the image for a bigger version.)
Indignities of the Flesh is a collection of 10 short stories by the acclaimed author of nearly two dozen horror novels. Bentley Little won the Bram Stoker Award for Best First Novel for The Revelation in 1990; he was nominated again for Best Novel in 1993 for The Summoning. I have his previous short story collection, The Collection, which is now out of print and highly prized by collectors. Here's the book description for Indignities:
Herein you'll meet: the mischievous "Rodeo Clown", who may very well be evil incarnate, or perhaps little more than an innocent bystander in a ring of coincidence; a man obsessed with dental hygiene to the point of stalking, in "Brushing"; a cynic forced to tag along on an ill-advised trip to a faith healer in "Documented Miracles"; a demented birthday girl whose equally demented birthday wishes are about to come true, in "Happy Birthday, Dear Tama"; a family on the run from cartoonists in search of their god, in "Looney Tunes"; and a man who pays the ultimate price for circumventing a parking attendant in the never before published, "Valet Parking."

Rounding out the collection are "The Black Ladies" and "The Piñata," a pair of unsettling stories culled from childhood nightmares, the surprisingly poignant "Even the Dead," which documents the last days of a tender partnership between two friends, only one of whom is still alive… Indignities of the Flesh is a superlative gathering of the kind of twisted, darkly humorous, and mind-bending stories for which Bentley Little is best known.
Indignities of the Flesh is 208 pages in a deluxe hardcover edition from Subterranean Press. It is $35, and was released on May 31. The cover and interior pen-and-ink illustrations are by the talented Bob Eggleton. Learn more at the Subterranean website.