Dean Wesley Smith and Kristine Kathryn Rusch Announce Fiction River
Dean Wesley Smith and Kristine Kathryn Rusch Announce Fiction River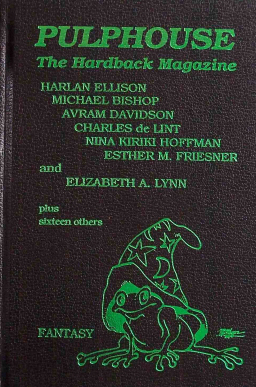 Pulphouse publishers Dean Wesley Smith and Kristine Kathryn have announced a new genre market, Fiction River:
Fiction River will be a bimonthly anthology series starting in April next year. Each anthology will be theme-focused and cross-genre containing all original fiction written by some of the top writers in fiction, including big names and names you might have never heard of.

Each anthology will be published in an electronic edition, a trade paper edition, and a very limited and numbered and signed hardback edition. (Signed by all authors and editors.) Readers will be able to buy each anthology individually or subscribe to the anthology series like a magazine.

As many of you know, Kris and I, in 1987, started Pulphouse Publishing with Pulphouse: The Hardback Magazine. We published those anthologies every three months. Fiction River will be like Pulphouse and Orbit and Universe and other major original fiction anthology series of the past. It will focus on top quality short fiction of all types, in a themed-anthology format.
Pulphouse was one of the most respected fantasy and science fiction markets of the 80s and 90s. They published twelve thick issues of Pulphouse: The Hardback Magazine from 1988 through 1993, and 19 issues of a weekly fiction magazine, also called Pulphouse (which was never quite weekly). They were nominated for a Hugo three times, and won the World Fantasy Award in 1989. After closing down Pulphouse Kristine Kathryn Rusch was the editor of The Magazine of Fantasy and Science Fiction for six years (1991 to 1997), and Dean Wesley Smith edited the anthology series Star Trek: Strange New Worlds.
To fund the project Smith and Rusch announced a Kickstarter project. By August 7, with 20 days still to go, they have surpassed their original $6,000 goal, with nearly $9,300 pledged.
You can read more about Fiction River here.