New Treasures: Philip Jose Farmer's Up the Bright River, edited by Gary K. Wolfe
New Treasures: Philip Jose Farmer's Up the Bright River, edited by Gary K. Wolfe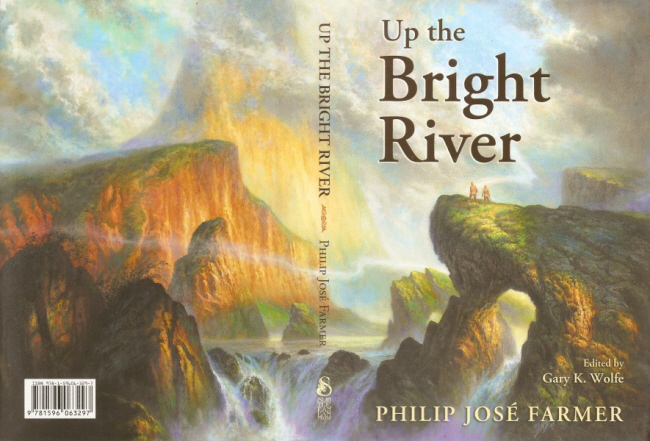 There's no truth to the vicious rumor that I select candidates for my New Treasures column based solely on awesome cover art.
I also have to be able to get my hands on a copy. That's two criteria, which I figure gives me a balanced approach.
Which brings us to today's special guest, Up the Bright River by Philip Jose Farmer, a short story collection edited by Gary K. Wolfe. And its awesome wraparound cover, courtesy of Bob Eggleton (click for even awesomer high-res version).
Like a lot of 70s science fiction fans, I first discovered Philip Jose Farmer through his Hugo Award-winning Riverworld series, particularly To Your Scattered Bodies Go, which I read and re-read, and The Fabulous Riverboat, which was even better.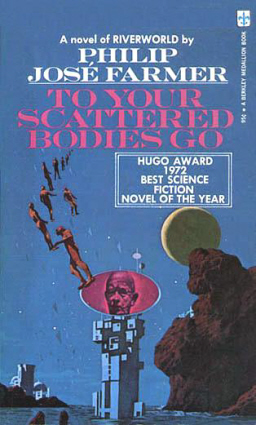 The premise, that an unknown alien race has built a massive world with a single great river and resurrected everyone who had ever lived  on the shores of that river, was brilliantly inventive, and boggled my 12-year old mind.
"You are in this book, so is everyone else who has ever lived," read the jacket copy. If I could write jacket copy like that, I'd be typing this from a gold-plated keyboard.
Farmer made his later reputation with his many SF series, including Riverworld, World of Tiers, Dayworld, Khokarsa (which we recently covered here); his Tarzan, Lord Grandrith, and Doc Caliban books; and others.
But he made his early reputation with his groundbreaking short stories. He won his first Hugo Award in 1953 (for "Most Promising New Talent") for his second published story, the novella, "The Lovers" (Startling Stories, August 1952),  the tale of a man in a sexual relationship with an extraterrestrial. It is frequently credited with being the story that broke the taboo against sex in science fiction.
His second Hugo came in 1968, for his novella "Riders of the Purple Wage," from Harlan Ellison's Dangerous Visions anthology.
Up the Bright River is the first collection of Farmer's work since his death in 2009. It contains 15 short stories and novellas, from the 1950s space adventures he published in Amazing Stories, Worlds of IF, Galaxy, and others, to his last three Riverworld tales.
They include his dark fantasy "Father's in the Basement" (1972), a Gothic horror tale from Orbit 11; "Extracts from the Memoir of Lord Greystoke" (1974), which he claimed to have merely edited; the first of the Father Carmody stories, "Attitudes," from The Magazine of Fantasy and Science Fiction (1953); "Down in the Black Gang," from World of IF (1969); the memorably titled "St. Francis Kisses His Ass Goodbye" from Semiotext(e) SF (1989); and ten others.
Up the Bright River is 333 pages in hardcover from Subterranean Press. It was published in December 2010 with a cover price of $40 and gets my highest recommendation.
And not just because of the awesome cover.