New Treasures: 21st Century Dead
New Treasures: 21st Century Dead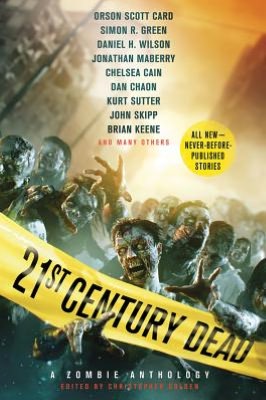 Ah, Zombies. We still love 'em. I know this is a trend that will soon begin to peak and die off (if it hasn't already), but until then I'm enjoying all the attention to one of my favorite undead.
Christopher Golden's 2010 anthology The New Dead was one of the more successful recent zombie books. With stories by some of the top fantasy writers in the field, including Joe R. Lansdale, Joe Hill, Kelley Armstrong, Tad Williams, John Connolly, Aimee Bender, Jonathan Maberry, and many others, it demonstrated the zombie story could still be fresh and exciting, even in the era of The Walking Dead and innumerable sequels/re-makes of Night of the Living Dead.
The New Dead was nominated for a Bram Stoker Award for Best Anthology, a rare honor. Now Golden returns with a second volume of all-original zombie stories, and the cast of writers he's assembled is just as impressive as the first.
21st Century Dead includes "Tic Boom: A Slice of Love," the first published fiction by Sons of Anarchy creator Kurt Sutter; "Parasite," a short story set in the world of Daniel H. Wilson's popular novel Robopocalypse; and short fiction from Orson Scott Card, Mark Morris, Simon R. Green, Jonathan Maberry, Duane Swiercyznski, Caitlin Kittredge, Brian Keene, Amber Benson, John Skipp and Cody Goodfellow, and many more.
21st Century Dead is 339 pages in trade paperback. It is published by St. Martin's Press. It is $15.99 in print and $9.99 for the digital edition. It was released on July 17, 2012.