Vintage Treasures: The Pan Book of Horror Stories
Vintage Treasures: The Pan Book of Horror Stories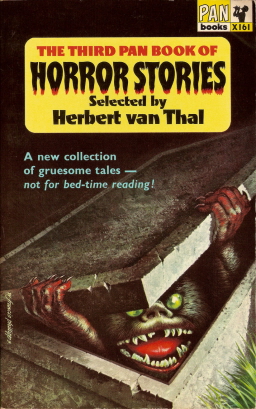 I talk a lot about book collecting here on the blog. People sometimes tell me, "It's interesting to hear about all the books you've been able to find… sort of. But you know what would really be interesting? To hear about the books you haven't been able to find."
Okay, but this is a painful subject. Just ask any serious book collector to tell you about the titles that have eluded them for decades. It's like asking a guy to enumerate all the women who've turned him down. We carry those memories for a long time, but that don't mean we wanna talk about 'em.
"Oh come on," people say. "Like you've ever turned down a chance to talk about books. Give it up." Well, since you put it that way.
Let's talk about The Pan Book of Horror Stories.
The Pan Book of Horror Stories was a British paperback series of horror anthologies. Published by Pan Books, it lasted for an amazing thirty volumes, from 1959 to 1989. The series creator — and editor for the first 25 volumes — was the renowned editor Herbert van Thal (Told in the Dark, Tales to Make the Flesh Creep, Lie Ten Nights Awake, and many others classic horror anthologies). Clarence Paget took over in 1985 after Van Thal's death and edited the last five volumes, until the series came to an end with number thirty in 1989.
The Pan Book of Horror Stories has a legendary reputation. Van Thal is a highly regarded editor, and with these books his vision was nothing less than to create a complete library of the finest short horror stories ever written. With the early volumes he relied heavily on classic tales from Bram Stoker, C. S. Forester, Ray Bradbury, Lord Dunsany, Edgar Allan Poe, William Hope Hodgson, William Faulkner, Frank Belknap Long, and many others, but with later installments he branched out to include newer authors (such as Stephen King), which helped launch a lot of new talent.
After several decades of collecting I have managed to lay my hands on exactly one volume: The Third Pan Book of Horror Stories, published in 1962 (shown above).
That probably overemphasizes the rarity of these books — they're not that hard to find. But they are expensive, especially in the original British editions (the US editions were dramatically pared down, including fewer stories), and the older volumes in particular are difficult to find in good condition. I've been trying to locate a reasonably-priced collection of Pan Book of Horror Stories for years, with absolutely no success.
But that's okay. As most collectors know, the real joy is in the search. I'm looking forward to a lot of joy in the next few years, as I gradually accumulate the other 29 volumes. Wish me luck.