July/August Fantasy & Science Fiction Magazine now on Sale
July/August Fantasy & Science Fiction Magazine now on Sale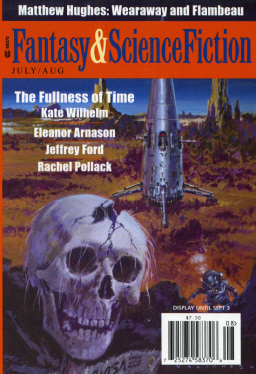 Nice creepy cover on the new issue of Fantasy & Science Fiction. This one is by Ed Valigursky; click for a bigger version. Great line of writers this issue too, including Kate Wilhelm, Eleanor Arnason, Jeffrey Ford, Matthew Hughes, Rachel Pollack, Albert E. Cowdrey, and many others. Check out the TOC:
NOVELLAS
"The Fullness Of Time" – Kate Wilhelm
NOVELETS
"Wearaway and Flambeau" – Matthew Hughes
"The Afflicted" – Matthew Johnson
"Jack Shade in the Forest of Souls" – Rachel Pollack
SHORT STORIES
"Hartmut's World" – Albert E. Cowdrey
"The Woman Who Fooled Death Five Times" – Eleanor Arnason
"A Natural History of Autumn" – Jeffrey Ford
"Wizard" – Michaele Jordan
"Real Faces" – Ken Liu
The tireless Lois Tilton has already reviewed the issue in detail at Locus Online, calling this one "A superior issue… most notably a fine novella by Kate Wilhelm and a short anthropological tale by Eleanor Arneson." Here's what she says about Matthew Hughes' "Wearaway and Flambeau," a far-future tale of Raffalon the thief:
This time, Raffalon has been nabbed in the act of breaking into the well-warded stronghold of the wizard Hurdevant the Stringent. The wizard employs an experimental punitive spell, which, fortunately for the thief, goes awry in a manner that offers unexpected possibilities. Entertaining stuff. The editorial blurb claims that this one is set in the author's far-future universe, but it seems like a typical fantasy world of the sort with wizards and thieves.
The cover price is $7.50, for a thick 258 pages. Additional free content at the F&SF website includes book and film reviews by Charles de Lint, Michelle West, and Lucius Shepard; a Science column, "Quicksand and Ketchup," by Pat Murphy and Paul Doherty; and the "Curiosities" column by the talented Bud Webster. We last covered F&SF here with the May/June issue.