Sung in Blood by Glen Cook
Sung in Blood by Glen Cook
Sung in Blood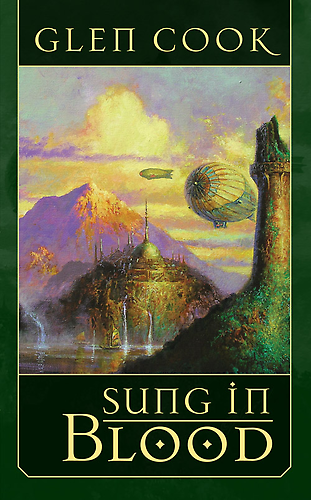 Glen Cook
Night Shade Books (190 pp, $23.95, 2006)
Reviewed by Jason M. Waltz
A high fantasy Fu Manchu meets Doc Savage in this formerly long out-of-print and impossible to find short novel from Glen Cook.
So says the Night Shade Books bookstore page. It's more than accurate. And for any fan of Doc Savage, it's a pleasant must-read. Sparse and pulpy, with evil sorcerers and demons, swords- and shadow-men, this less-than-200-page-novel is a fun romp amid the glorious romance of a former era.
My thanks to John O'Neill who, as always, guides my purchasing choices at the Windy City Pulp and Paper Convention every April in Chicago. While I found the book this year, tucked on the lower shelf beneath a vendor's table, it was he who convinced me to buy it.
In truth, it is not reminiscent of Cook's other better-known writings. This is nothing like his Black Company or Dread Empire tales — consider that both recommendation and caution.
It's been my experience that Cook is an acquired taste. I know others who do not enjoy his works; while I do, I'd not list him among my favorites. I came to him in the late 1990s, well after he had made his impact. I still wonder what that impact would have been on me personally if I had found him in the late 1980s when his writing would have shaken me from my Dragonlance~Shannara~Dragonrealms~Forgotten Realms reading habits. For those readers looking for more of Croaker or Mocker and their ilk, you'll search in vain. For those not so inclined, perhaps you'll find a Cook story worthy enough to while away an afternoon. I did, and I'm glad I did; this book is staying on my shelves.
Check out that cover. The story matches its fantastical splendor! Nary a sword or demon in sight, yet they're present, the former appearing mere pages behind it and the latter lurking right there…danger and dastardly deeds and death roiling beneath the lot of it. Our protagonist is Rider, a fantasy version of Doc Savage complete with specialist sidekicks, gadgets, and even a stated incomprehension of the female half of the species. This is his world. In fact, he's been bred to dominate, and he does so in fine fashion, rising to every challenge and responding to every setback with aplomb. The story is entertaining and exactly as presented; besides Dent's presence, one can find a bit of Sabatini, even Burroughs, and perhaps a dash of Leiber completing its wonderful pulpiness.  This is fun reading, and I imagine it was fun writing.
Speaking of which, this novel was originally published in 1990 by NESFA Press in recognition of Cook's Guest of Honor status at Boskone 27. Their description even includes the word 'pastiche' alongside Doc Savage. If you enjoy The Man of Bronze or any other quick read consisting of heroic swashbuckling and derring-do against vicious villains consumed with plots to rule the world this is one book you should definitely pick up. My only wish is that Night Shade Books could convince Cook to continue the story.