Tor Releases The Devil Delivered and Other Tales by Steven Erikson
Tor Releases The Devil Delivered and Other Tales by Steven Erikson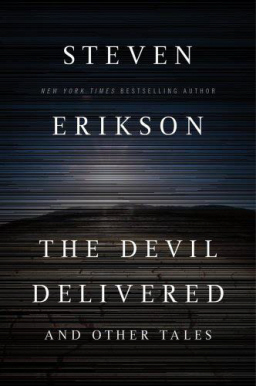 I know we've got a lot of Steven Erikson fans out there. We've got your back.
On Tuesday Tor Book released The Devil Delivered and Other Tales, the latest collection of a trio of fantasy novellas from Steven Erikson, following 2009's Bauchelain and Korbal Broach, which gathered three short novels of the Malazan Empire.
Like Bauchelain and Korbal Broach, The Devil Delivered and Other Tales features work previously printed in expensive limited edition hardcovers from PS Publishing: The Devil Delivered (from March 2005), Fishin' with Grandma Matchie (November 2005), and Revolvo (December 2008). Most of them are no longer available, or available only at collector's prices, so if you're an Erikson fan who hasn't seen them before this edition is a bargain.
Unlike Bauchelain and Korbal Broach, this volume features standalone tales unrelated to his popular Malazan Empire setting. Here's the summary for the first story, The Devil Delivered:
Mind the Hole. In a world of ozone depletion, toxic deadzones, internicine brew-ups and lifeless oceans, nothing has changed. Or so it seems, but in the break-away Lakota Nation, in the heart of a land blistered beneath an ozone hole the size of the Great Plains of North America, something is happening. Tracked by a growing global audience of online subversives and electronic muckers, a lone anthropologist wanders the deadlands, recording observations that threaten to bring the world's powers to their knees. Past and future; restless ghosts and rogue corporations; rad-shielded cities and unprotected peripheral populations; all now face each other, across a chasm once wide but growing ever narrower. Mother Earth is poisoned beyond any hope of resuscitation. Humanity beyond any hope of redemption — but one last lesson of life awaits. When Nature starts losing the game, Nature changes the rules. We've turned paradise into Hell, and in Hell, the Devil Delivers.
The Devil Delivered and Other Tales is $14.99 in trade paperback for 336 pages. It was published by Tor Books on June 19, 2012.