A Dance With Dragons wins the 2012 Locus Award for Best Fantasy Novel
A Dance With Dragons wins the 2012 Locus Award for Best Fantasy Novel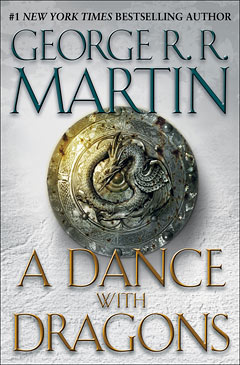 The winners of the 2012 Locus Awards were announced today:
Fantasy Novel — A Dance with Dragons, George R.R. Martin
Science Fiction Novel — Embassytown, China Miéville
First Novel — The Night Circus, Erin Morgenstern
Young Adult Book — The Girl Who Circumnavigated Fairyland in a Ship of Her Own Making, Catherynne M. Valente
Novella — "Silently and Very Fast," Catherynne M. Valente (WSFA; Clarkesworld)
Novelette — "White Lines on a Green Field", Catherynne M. Valente (Subterranean Fall '11)
Short Story — "The Case of Death and Honey", Neil Gaiman (A Study in Sherlock)
Anthology — The Year's Best Science Fiction: Twenty-eighth Annual Collection, edited by Gardner Dozois
Collection — The Bible Repairman and Other Stories, Tim Powers
Non-fiction — Evaporating Genres: Essays on Fantastic Literature, Gary K. Wolfe
Art Book — Spectrum 18, Cathy Fenner & Arnie Fenner
Artist — Shaun Tan
Editor — Ellen Datlow
Magazine — Asimov's Science Fiction
Publisher — Tor
The Locus Awards are presented annually to winners of Locus Magazine's readers' poll. The award was first given in 1971; last year's fantasy winner was Kraken, by China Miéville. We reported on the 2011 awards here.
Congratulations to the winners, and special congratulations to Cat Valente for sweeping three categories: Young Adult Book, Novelette  and Novella.
Complete details on the 2012 winners, including all the nominees, are available at Locus Online.