New Treasures: The Fantasy Fan
New Treasures: The Fantasy Fan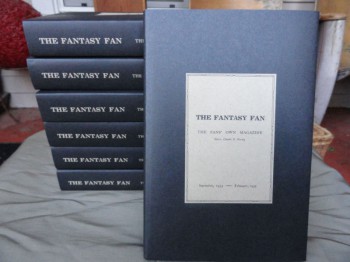 Last month, I got a great e-mail from Black Gate blogger Barbara Barrett. In between her entertaining comments on The Avengers, Arthur Machen, and re-discovering comic books, was this fascinating tidbit:
I've started reading The Fantasy Fan — a fan's tribute to Hornig.  It's a book containing a compilation of all the Fantasy Fan magazines… I'm only on the first zine but I'm amazed how closely the format matches that of Black Gate. Is this a *coincidence*? The first zine was published in September 1933 and it's chilling because I keep in mind Robert E.Howard was still alive at that point… the breadth and depth of authors, articles and stories are wonderful. It's definitely a page out of Living History.
Among fantasy collectors The Fantasy Fan is legendary. The world's first fanzine dedicated to weird fiction, it lasted for 18 issues, from September 1933 to February 1935. Its contributors included some of the most famous names in the genre — H.P Lovecraft, Clark Ashton Smith, Robert E. Howard, Bob Tucker, Julius Schwartz, Forry Ackerman, Robert Bloch, August Derleth, Eando Binder, and many others — and its young editor Charles Horning so impressed Hugo Gernsback that he hired him to edit Wonder Stories in 1933, at the age of 17. While at Wonder Stories he published Stanley G. Weinbaum's "A Martian Odyssey" and many other famous pulp stories.
Barbara's reference to a compilation of The Fantasy Fan was so intriguing I had to track down a copy for myself, and it finally arrived last week. Copies of the original fanzine are so rare that I've never even seen one, so to hold a facsimile reprint of all 18 issues in my hands was rather breathtaking. The man behind the book is Lance Thingmaker, and here's what he says in his introduction:
These fragile gems were so unique. They were simple little fanzines, but were filled with stories, articles and comments by history's most important weird fiction writers and fans. I felt like I was looking back in time… Since they are extremely hard to find, it seemed many others probably never had the chance to check out the world's first weird fiction zine. I wanted to make it happen.
The end product is a top-notch piece of work. The magazines are presented in facsimile format, with painstaking restoration of the original barely legible pages, hand printed and hand-bound in hardcover by Thingmaker. The book is over 300 pages, including the complete text of H.P. Lovecraft's famous essay "Supernatural Horror in Literature," which was being serialized when the magazine folded. It is limited to 100 copies and sold for $50. Thingmaker's next project, due to ship later this month, is a facsimile reprint of all four issues of the ultra-rare pulp Marvel Tales.
You can find a detailed breakdown of the contents of The Fantasy Fan here. My thanks again to Barbara for alerting me to this before it sold out!