Art of the Genre: The Basic D&D Gazetteer
Art of the Genre: The Basic D&D Gazetteer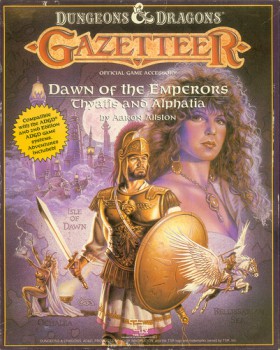 At some point in my distant past I fell in love with something I didn't have. I suppose it happens a lot to gamers, especially with younger folk and those who grew up before the advent of the internet. In days now long gone, I would flip through a Dragon Magazine and marvel at all the titles I found available in the advertisements.
How many times have I kicked myself for not being able to lay hands on a copy of Aftermath? Could I imagine a more Tolkien-like fantasy system with Runequest? What incredible fun would it have been to play a round of Talisman?
So many games, so little time, and certainly even less money. In those days I was required by circumstance to create most of my own worlds and adventures, although I did partake of Greyhawk and the Forgotten Realms.
Still, if there was one world that I always felt I missed out on it was the D&D Basic Mystara. I'd begun my gaming career with Basic D&D, but with Mark [my lifelong DM] having all the AD&D hard cover books, I moved on to 'bigger and better' before I really had a chance to fully vest myself in the Basic system, especially the setting.

However, at some point in the middle 80s TSR decided to dedicate a full line to the Basic world and to encapsulate the style of it they tabbed Clyde Caldwell for all the covers.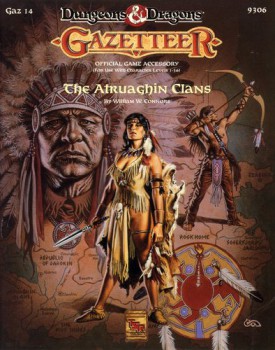 These supplements were called Gazetteers, and while Elmore was creating a name with Dragonlance novel covers and Easley was becoming an icon with the yellow spine AD&D hard covers books, Caldwell got this series exclusively to himself.
In total, there were fifteen Gazetteers, and every time I saw one in a magazine I was taken with a deep desire to hold it in my greedy little grasp. They were all epic and beautiful. The concept revolved around taking a section of demi-human fantasy or real world culture and redefining it in a single fantasy world. In so doing, they really are brilliant works, and the formulaic style Caldwell used to depict each binds them together into an intrinsically brilliant mosaic.
Certainly this series was the high water mark for Caldwell at TSR, and there is little doubt that it could be argued as perhaps the greatest artistic series the company every produced. Clyde places a nearly full figure in the center of the frame, puts a map background beneath, a cityscape in one corner, and two or three other figures around the central character. Typically one or two of those depicted are thigh-tastic women, and the image always drips of regality.
I well remember, in probably 1991, I was asked by the family of my then girlfriend and later wife what I'd like for my birthday. My response; a Gazetteer. They scoured the shelves of many a gaming store before they finally found a copy Dawn of the Emperors: Thyatis and Alphatia [Release date 1989] boxed set. It was the last of a long series, and the only one I ever got my hands on in those early days.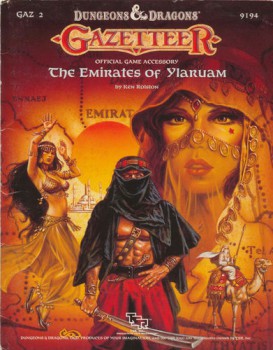 So I had to be content with my one Gazetteer, and it was actually the oddity of the entire bunch because it was a boxed set and all the rest were simple soft back, non-staple cover, supplements. I moved on, but the lasting images of Caldwell's work stuck with me as I grew through my twenties, got married, found work, and eventually ran into an entity known as eBay.
From 2000 to 2008 I went on a birthday only quest to once and for all complete my set of Gazetteers, and when it was all said and done they ALL happily resided with me, a perfect slice of the Basic D&D system I never got to play. Indeed, I'll even take the time to make a roll call of all the glory involved: The Grand Duchy of Karameikos, The Emirates of Ylaruam, The Principalities of Glantri, The Kingdoms of Ierendi, The Elves of Alfheim, The Dwarves of Rockhome, The Northern Reaches, The Five Shires, The Minrothad Guilds, The Orcs of Thar, The Republic of Darokin, The Golden Khan of Ethengar, The Shadow Elves, The Atruaghin Clans, Dawn of the Emperors: Thyatis and Alphatia. Together, a very worthy addition to any gamer's collection.
Even today I still look on these covers and marvel at the creative process that went into them. Not only does Caldwell make history with the covers, but nearly all of them have supple interior black and white illustrations by fantasy legend Stephen Fabian. They absolutely drip with old school verve, and although I can only show a few in this article, I do suggest you take a gander at the rest here.
---
If you like what you read in Art of the Genre, you can listen to me talk about publishing and my current venture with great artists of the fantasy field here or even come say hello on Facebook here.