Convention Report: Ad Astra 2012
Convention Report: Ad Astra 2012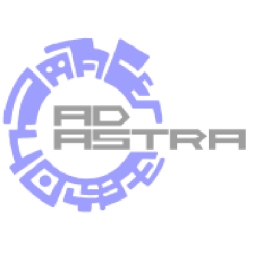 Last weekend I went to Toronto to attend the Ad Astra science fiction and fantasy convention. It was the third convention I've been to in my life. I learned a fair bit.
To start with, I learned a bit about the thriving Toronto sf scene. Toronto's a huge city, both geographically and in terms of population; over six million people live in the Greater Toronto Area, and over eight and a half in the 'golden horseshoe' region around the western shore of Lake Ontario. That's the population base the sf community there draws from. There are writers of all levels of experience in and around the city, and a friend of mine told me there are at least three critique groups of published writers. Publishers are based in the city, notably ChiZine Publications. And, in tough days for retail booksellers, there's still a dedicated sf bookstore, Bakka Phoenix. As well as three separate annual conventions, that I know of.
Ad Astra was first held in 1980, and focusses on written fantastika. Guests of honour this year were author Harry Turtledove, writer/actress Lesley Livingston, artist Joe Jusko, editor Shelly Shapiro, and fan organizer/scholar Peter Halasz. The 2012 convention was technically north of the city of Toronto proper, in the neighbouring municipality of Markham.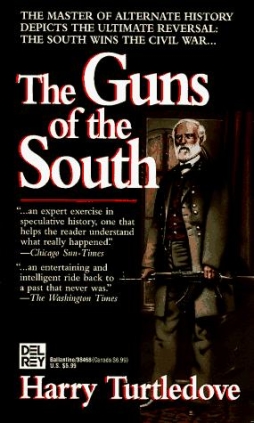 It was the con's first year in a new hotel, and there seemed to be some glitches, notably to do with whether and when an interior stairway was publicly accessible (when it wasn't, the line-up for the elevators swiftly became ridiculous). That said, overall I thought the physical layout of the convention was effective. Nothing was too far from anywhere else, and the rooms were mostly a good size for the events they held. The dealers' room proper was small, meaning that several vendors, notably self-publishers and micropresses, were scattered through several nearby halls and rooms. I don't know how they felt about it, but as an attendee I enjoyed wandering around and seeing the variety of tables.
There did seem to be problem with overall co-ordination. Photocopies of the schedules weren't available for Friday night, no printed list that I could find was ever made public of which panelists would be on which panels, and there seemed to be scheduling conflicts among the panelists. That being said, I found the staff helpful and professional in answering my questions. One panel I attended (on ancient books) involved a power-point presentation, and at first the equipment wasn't working; con staff turned up quickly, and soon had the machinery functional. For me, as an attendee who was not sitting on panels or involved in any behind-the-scenes matters, the organisation worked well enough to provide a fine convention experience.
It all started for me on the Friday evening with a panel about steampunk writing, featuring author-publisher Rob St. Martin and writer Ed Greenwood as panelists. As it turned out, the audience consisted of only one person beside myself, meaning it became a free-flowing conversation about steampunk, empire, and history. It was a good start, not least because the chance to participate so much in the discusssion really helped draw me into the event.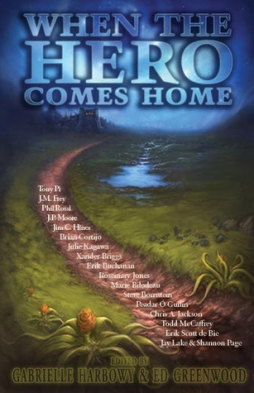 After wandering around the convention for a bit, I dropped in for the second half of a panel on What Scares Us?, featuring David Nickle and Michael Kelly. It was an interesting chat, again with only a few more audience members than panelists. From there I went to a panel on The Intersection Between the Academic and the Creative, where writers including Leah Bobet, J.M. Frey, and Gregory A. Wilson discussed the way academic experience can help to shape one's fiction.
I called it a night at that point, as I had a long trip to make on the Toronto transit system to get back to where I was staying, but made it back early the next morning for a discussion about villains and what makes them work. Panelists included Wilson, St. Martin, Greenwood, and editor Gabrielle Harbowy. The latter two have co-edited a short story collection called When the Hero Comes Home (look for a review around these parts soon), with a companion volume, When the Villain Comes Home, scheduled to follow this year. The discussion was thoughtful and wide-ranging, going from Batman to Paradise Lost to, inevitably, Star Wars.
After that, poet and Managing Editor of ChiZine Publications Helen Marshall presented a fascinating look at medieval books — what they looked like, what they were made from, how they developed. Then it was off to a talk about Twin Peaks, which somehow turned into a discussion of TV generally; appropriately, after a quick lunch, I went to a panel about fantasy on TV. It was, all told, a diverse morning.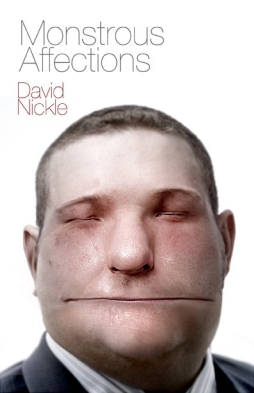 The next two panels I attended had especially strong turnouts. The first dealt with creating cultures in fantasy worlds, the second with creating languages. They were interesting chats, though occasionally seemed a bit at variance with their given descriptions — the talk on creating cultures turned into a discussion of how to use existing cultures, for example. At any rate, I followed them by attending a great panel on historical costuming, then went on to a presentation by Robert Godwin of digital panoramas he'd made of the moon's surface by stitching together photographs and video footage taken by the Apollo astronauts. I ended things by going to a panel on adapting books into movies. All told, it was a varied and surprising day. Not all the panels cut as deeply as I would have liked, or dealt with the exact aspects of their subjects that I was interested in, but overall what I did learn made the day worthwhile.
I spent some time on the Saturday night at the parties. I was able to meet and speak with author Craig Davidson, whose excellent set of linked short stories Sarah Court I'd raved about for the Rover Arts web site. As it happened, later on I was able to properly introduce myself to Ed Greenwood, who graciously chatted for a good half-hour or more, an energetic wide-ranging talk about food in history, the Depression, the development of Toronto, and any number of other topics. It was a nice wrap-up to the day.
Sunday was briefer, but more intense. I showed up at 10 for a panel on ghost stories from around the world, which I had to leave halfway through in search of coffee. Luckily, I found some, provided in the room across from the con suite by the folks at AE magazine. An online Canadian SF magazine, named for seminal Canadian author A.E. Van Vogt, AE has also had the great good taste to publish "Unwinding Road," a piece by my girlfriend, Grace Seybold, which they also reprinted (along with several other short tales) as handouts for the con.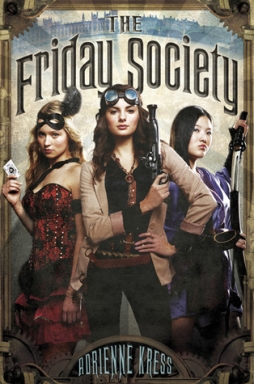 From there I went to a panel on guerilla marketing for self-publishing, then to another steampunk panel, with St. Martin, Greenwood, Frey, and author Adrienne Kress. A lot of great issues about steampunk were raised, but by this point of the convention I was frankly exhausted. I suspect many others were as well, which may explain why the panel at one point burst into a rendition of a song from The Pirates of Penzance. Somehow, it seemed relevant at the time.
I then managed to catch half of a panel on Northern Gothic, featuring David Nickle and Peter Halasz; it was an intense investigation of the meaning of gothic, and how it works when translated to a northern sensibility — is it inherently rural, and if so how does it relate to landscape; or is an urban northern gothic imaginable? It was a fascinating talk, which led nicely into the panel I'd been looking forward to all weekend, a discussion about what were the 10 most influential books in fantasy. There were some interesting names thrown out; nobody had quite the same definition of 'fantasy,' or for that matter of 'influence,' making for a diverse group of texts. Does one choose the Epic of Gilgamesh, Homer, Ovid, Mallory … or should we look at the influence on the current marketplace, and select Brooks and Jordan?
(If you're interested, according to my scribbled notes, over the course of the panel Peter Halasz mentioned Gilgamesh, the New Testament, the Koran, Homer, Ovid, Mallory, The Arabian Nights, Perrault's Mother Goose, Grimms' Fairy Tales, The Lord of the Rings, and Jorge Luis Borges. Writer Matthew Johnson put forward Macbeth, Lin Carter's Conan of the Isles — the first franchise novel — The Left Hand of Darkness, Charles de Lint's Jack the Giant-Killer — the first urban fantasy novel, Johnson suggested, and a direct ancestor of Buffy the Vampire Slayer — Brooks' Sword of Shannara, Moorcock's Elric books, and Wolfe's Book of the New Sun. Writer/publisher Elizabeth Hirst suggested Lord of the Rings, Frankenstein, Peter Beagle's The Last Unicorn, A Wizard of Earthsea, Paradise Lost, Dante's Inferno, The Mists of Avalon, the Harry Potter books, Interview With the Vampire, The Colour of Magic, H. Rider Haggard's She and related works, and Lewis' Narnia books. Rebecca Simkin, one of the organisers of the Sunburst Award, suggested A Wrinkle in Time, The Odyssey, Neuromancer, A Wizard of Earthsea, Beowulf, Elric, and The Once and Future King. Writer Ian Keeling mentioned The Lord of the Rings, the Potter books, The Wheel of Time, Mallory, A Midsummer Night's Dream, George MacDonald's The Princess and the Goblin, A Princess of Mars, the Thomas Covenant books, and the Narnia books. Suggestions from the audience included Alice in Wonderland, Patricia McKillip's early work — which the commenter suggested revised myths in a significant way — and the work of Pauline Baynes, who drew the map for The Lord of the Rings.)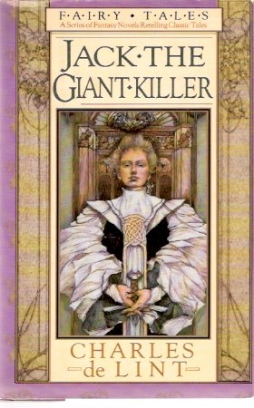 (Meanwhile, I'd come up with a list of my own; I decided "10 most influential books in fantasy" meant the books within the fantasy genre that shaped the genre the most in terms of narrative structure — if a genre's a set of narrative conventions, which books most defined those conventions? So I excluded children's books, for the most part, and magic realism, and came up with the following list: Sara Coleridge's Phantasmion, William Morris' romances, Eddison's The Worm Ouroboros, Howard's Hour of the Dragon, The Lord of the Rings, Mervyn Peake's Gormenghast books, Le Guin's Earthsea, Moorcock's Stormbringer, Martin's A Game of Thrones, and Jaqueline Carey's Kushiel's Dart — but Hirst's mention of Mists of Avalon convinced me to drop that one in favour of Bradley's book. I wish I'd been able to find room for Dunsany, MacDonald, China Miéville, John Crowley, Hope Mirrlees … any number of other writers, really. But that's the challenge of the exercise.)
All in all, the weekend's panels had a good range of subject matter, and on the whole worked fairly well. It seemed to me that they were more conversational than at the other conventions I'd been to; that the audience was often able to enter into a real dialogue with the panelists. It was engaging, unpredictable, and informal in the most effective way possible.
Overall, I enjoyed Ad Astra. I don't honestly know if I'd go back, just because the location makes it inconvenient to get to unless you're staying at the convention hotel or somewhere else nearby. But the people were friendly, and it's large enough that there's always something going on that's worth looking at, whether a panel, or an anime showing, or a group of lego enthusiasts. And, overall, although there are events to do with other media, the focus was mainly on the written word; that in itself was nice to see. As I said, I don't have a wide experience with conventions, but Ad Astra was pleasant and involving. I was able to pick up review copies of a number of books, as well, which I'll be discussing over the following weeks. So a positive experience, on my end; just about what I was hoping for.
---
Matthew David Surridge is the author of "The Word of Azrael," from Black Gate 14. His ongoing web serial is The Fell Gard Codices. You can find him on facebook, or follow his Twitter account, Fell_Gard.