Rich Horton and Sean Wallace explore War and Space
Rich Horton and Sean Wallace explore War and Space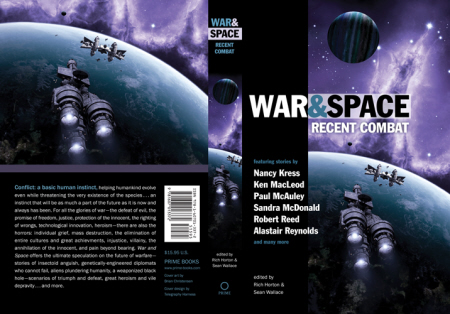 Rich Horton has been a Contributing Editor for Black Gate since…. you know, I'm not even sure I remember. When we were in Kindergarten, maybe.  Or possibly since that drunken weekend when we assembled Goth Chick in our old laboratory. Good times, good times.
There was a day when I thought Rich and I would conquer science fiction together. We were two freelance journalists telling it like it is. When Tor started printing books with ink made in Singapore sweat shops, we blew the lid off the whole thing. Sleep didn't matter, friendships didn't matter. Only the truth mattered. And hot babes. Babes were on us like… like… well, not really. But anyway, we were unstoppable. The world was ours for the taking. At least, that part of the world that didn't include women.
Then Rich met Sean Wallace, and Sean offered him something I never could: an actual wage. Rich dropped me like a hot potato for a career as one of the hottest anthologists in the field, and never looked back. Last time I saw him he was driving a Lamborghini Diablo and talking to J.K. Rowling on his cell.
I confronted Sean on the front steps of the Prime Books skyscraper in '06. I was in a snarling rage, and threatened his life. He punched me in the nose and made me cry.  Then he bought me a hot chocolate and a bus ticket back to Chicago, and that was that.
That was nearly a dozen acclaimed anthologies ago, including three volumes of The Year's Best Science Fiction and Fantasy, my favorite of the annual survey anthologies. Now Rich and Sean have teamed up for War and Space: Recent Combat, a reprint anthology collecting some of the best tales of space warfare from the last few decades, including "Who's Afraid of Wolf 359" by Ken MacLeod, "Art of War" by Nancy Kress, and "The Political Officer" by Charles Coleman Finlay. This isn't your typical military SF collection however, as Sean makes clear in a question to a reader in the comments section of his blog:
Will you still like it even if it's not, well, in the vein of Baen military sf? I have to admit that we went a bit broader with this, and while we love it a lot, I just hope people aren't expecting something a bit more militaristic?
Coming from a guy with a mean right hook, that sounds great to me.  War and Space will be released on May 2 by Prime Books. It is $15.95 for 384 pages in trade paperback.