Art of the Genre: Darrell K. Sweet [1934-2011]
Art of the Genre: Darrell K. Sweet [1934-2011]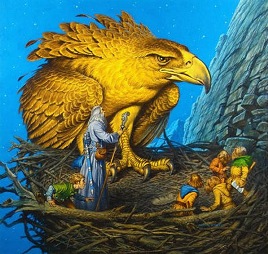 I walked into the Black Gate L.A. building this morning and Kandi read me the following message as I passed the reception desk:
"Fantasy and Western Artist Darrell K. Sweet passed away on Monday morning."
I looked at her, those silky blues eyes staring back at me as if to ask what she should do. I had no answer, simply taking the note and walking into my office before closing the door…
I'd spent the past year working to get in contact with Darrell, all my attempts falling short, and now it was too late. Too late to find some unknown tidbit of information from one of the most recognizable fantasy artists of the past thirty years.
When I did my infamous 'Top 10 Fantasy Artists of the Past 100 Years' article earlier this year, I didn't include my personal Top 10 list, only the added and evaluated contributions of 50 industry experts. Darrell didn't make their list [actually he didn't get a single vote other than mine], which I thought was a huge travesty, but nonetheless he'd made mine prestigious list because I can't readily remember fantasy literature without him.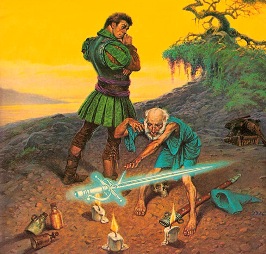 It's said that Darrell didn't enjoy fantasy art, that he thought it somehow cheapened his craft. I can neither confirm or deny this fact, but I will say that there was absolutely nothing cheap about anything Darrell did in this wonderful genre.
His work is timeless, pure, bright, and has such a flair for depth and humor that I've always found it captivating in a way few other artists ever manage. There was also an innocence to his subject matter, and perhaps that harkened back to his days defining the 80s fantasy marketplace.
In that time books were more fun, more frivolous, more thoughtful, and I love that period so much more than the dark and gory swath of drivel that takes up so much of the shelves today at B&N. You can keep Abercrombie's blood splatters and Martin's incest and murder as well as Goodkind's rape scenes and bondage. I'll happily stay in the naiveté and dashing wit of Anthony's Xanth, L.E. Modesitt's Recluse, Stasheff's Rhyme, and Watt Evans's Ethshar which are all depicted in the wonder of Sweet's brilliant brush.
I came of age in those days, both as a young man and as a reader, and I have to thank Darrell for providing a looking glass into the worlds I would visit. His rendition of J.R.R. Tolkien's Hobbit and Lord of the Rings in the Silver Jubilee Edition still holds a place on the shelf next to my desk as the gateway to Middle-Earth for me. His cover's inspired my reading of Tolkien's epic and he's one of only two artists that I will permanently recognize as the true visionaries to that universe.
Born in Highland Park New Jersey in 1934, Sweet studied art at Syracuse University and began his professional career in fantasy art in 1975, almost two decades after attaining his degree. During the most productive portion of his career from 1975 to 2005 he produced more than 3000 images, perhaps his best known coming on the covers of Robert Jordan's Wheel Of Time. Sadly, both Jordan and Sweet didn't live long enough to see the series completed, although the final volume is due out in 2012.
At his heart, Sweet wanted to be a Western artist, and he looked the part, Stetson and white beard a kind of Lonesome Dove-like figure as any you'd see. His passion for the American West is well noted, and he did some truly inspired pieces in that genre but with the advent of the Space Age, Westerns dwindled and fantasy bloomed. Reluctantly, he took up the call to the up and coming genre and the rest is history.
Personally, I've always been taken with Sweet's style as a world builder along with the likes of Walter Velez. It's not necessarily his brush strokes that amaze, but his vision at creating a particular world where all of his images tend to take place. If you know Sweet's work, you know what I'm talking about, a place where men wear their beards pointed, women are fair and delicate, and dragons are round-bellied with small scales and stunted and tattered wings. If I could say anything about his worlds it would be that they are happy, bright, and epic all in one, even if you get a sense of hardy adventure waiting just beyond the page.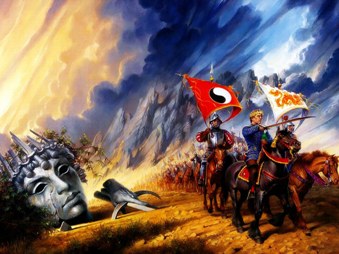 In depicting Tolkien in his Jubilee Editions I draw the reader's attention to his cover for The Hobbit, the regal image of Gandolf with a truly inspired Glamdring at his side in eggshell blue sheath is impossibly good, and the gold of the eagle is completely off the chart. In essence, his works 'pop', capture the eye and make one smile while you pull the book closer to find some hidden detail.
I'm serious when I say no other artist has covered more books that I've read in my life, from the Donaldson's Chronicles of Thomas Covenant the Unbeliever to the Rosenberg's Guardians of the Flame. If Sweet was on the cover I'd shell out money to read it, plain and simple.
In conclusion, I hope all of you who've ever knowingly or unknowingly been moved by one of Sweet's covers will take a moment to remember the passing of one of the industry's greats. Please add a comment below if you can think of a book you've enjoyed that Sweet covered, and thank you for taking the time contribute your thoughts.
Rest in Peace, Darrell, you will be missed by never forgotten…