Interzone November-December # 237
Interzone November-December # 237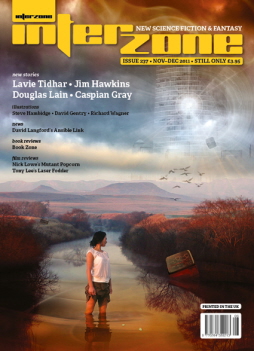 The November – December issue of Interzone contains substantial new stories by Lavie Tidhar ("The Last Osama"), Jim Hawkins ("Digital Rites"), Douglas Lain ("Erasing the Concept of Sex from a Potobooth"), and Caspian Gray (Caspian Gray); artwork by Richard Wagner, David Gentry, Steve Hambidge; "Ansible Link" genre news and miscellanea by David Langford; "Mutant Popcorn" film reviews by Nick Lowe; "Laser Fodder" DVD/Blu-Ray reviews by Tony Lee; book reviews by Jim Steel and other contributors.
Interzone alternates monthly publication with sister dark horror focused Black Static, published by the fine folks at TTA Press.
You can subscribe to the print version here, or the electronic edition here; there's also a special discounted rate for a joint subscription to both Interzone and Black Static. Lifetime subscriptions are also available. What you're buying, in essence, is a 10-year subscription at the current rate.  If you think you're going to live for at least another decade, and you think Interzone will also be around for as long, this could be a bargain for whatever time you and the magazine have after that. If that weren't enough, you can also opt for joint lifetime sub that gets you sister publication Black Static for a slightly reduced rate.  Sign your life away here.