National Novel Writing Month—Whether You Like It Or Not
National Novel Writing Month—Whether You Like It Or Not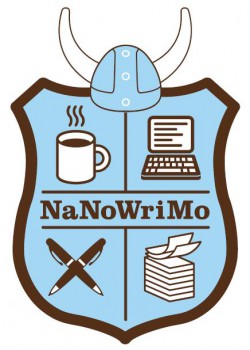 I've discussed National Novel Writing Month before, and if you want the lowdown on this annual global community creative writing project to kick people to a 50,000-word novel in thirty days, you can read about it here. Today I come to you as a scarred old warrior observing the changes that can happen after a few consecutive years of participation. Not changes to me, but changes to the world that NaNoWriMo has created.
I have now been on the battlefront of NaNoWriMo for four years, which makes me a "veteran." I've also "won" three years running, and with a current total of 22,000 words as of Day 7, it looks like I'll rack up another victory this year, walking away with a PNG badge. And a finished manuscript, the best reward possible.
After the third year of participation, I discovered something, and that in turn has brought me a realization this year: the actual "rules" of NaNoWriMo are irrelevant. You no longer need to try to "write a new novel, starting from zero words, and reach 50,000 before the end of the month." Since National Novel Writing Month isn't a contest offering a prize, you can't "do it wrong." You can "cheat" on your word count on the official site—many do, I'm sure, since I've seen some impossible word counts—but that achieves nothing. There are other, creative ways to break the rules. You can choose to start writing a screenplay instead, or tackle short stories one after the other (as I did last year), or use the time to finish a novel you've already started (as I am doing this year). NaNoWriMo's official term for anyone who does this a "Rebel." It isn't a pejorative term, but the welcome umbrella for anyone who wants to use November to kick their writing machines' engine back to sputtering life. Every year, I find more people joining the ranks of the Rebel Alliance; it's usually folks who have succeeded writing new novels in the previous years.
So arose the epiphany I had this first week of NaNoWriMo 2011: National Novel Writing Month has transformed the month of November for all writers. I would go so far as to say that even people who have never heard of it have been affected. The weave of the fabric of creative endeavor has changed.
The far-reaching affects of a global creative writing project that touches every corner of the Social Media universe has made November into a writing productivity powerhouse, regardless of whether someone participates or not. If you write, you almost certainly know about NaNoWriMo, and you have friends who are taking part in it. News of word-count successes and painful procrastinations bleed over Twitter feeds and Facebook accounts. It isn't necessary to sign up on the official website to take part in this energy. Professionals to teenager fanfic writers now exist in the same bubble of communication concerning mutual writing. The collective consciousness of writing expands to envelope all during the eleventh month.
This is the first year that I have felt this all-encompassing phenomenon. November is a different place than it was ten years ago—at least for authors. I can see myself eventually not participating in any official way—no word-count updates on the site, no forum posts, no write-ins or Kick-Off parties. But I cannot see myself ever spending an unproductive November again. I cannot escape NaNoWriMo. If you writer, neither can you. And you should give thanks.
Okay, back to work. I want to get to 25k, the halfway point, today. (It makes the end of the month easier, and I'm tied up at LOSCON.)
---
Ryan Harvey is a veteran blogger for Black Gate and an award-winning science-fiction and fantasy author. He received the Writers of the Future Award in 2011 for his short story "An Acolyte of Black Spires," and has two stories forthcoming in Black Gate and a number of ebooks on the way. He also knows Godzilla personally. You can keep up with him at his website, www.RyanHarveyWriter.com, and follow him on Twitter.