Apex Magazine 28 Arrives
Apex Magazine 28 Arrives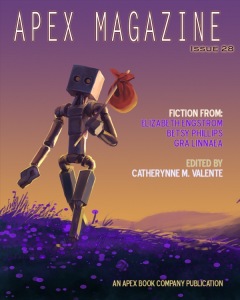 The 28th issue of Apex Magazine is now on sale.
This issue features two new short stories, "Namasté Prime" by Grá Linnaea, and "Frank" by Betsy Phillips, plus a reprint: "Gemphalon" by Elizabeth Engstrom.
Erik Amundsen contributes a poem: "And Cut Down a Moment Later," and the award for Best Title of the Issue goes to John H. Stevens, for his non-fiction piece "The Improbable, Inevitable Domestication of the Great Old Ones: H.P. Lovecraft's Iconic Influence on 21st-Century Fantastic Literature and Culture."
Seriously, that's one great title.
This issue of Apex Magazine is edited by best-selling writer and short-timer Catherynne M. Valente. Lynne Thomas will be taking the reins for future issues.
Apex Magazine 28 is sold online for $2.99; it's also available in Kindle, Nook, and a downloadable format through Smashwords.
Apex is published monthly. Previous issues are available through their back issue page. We last profiled Apex with issue 27.
You can subscribe and get 12 issues for just $19.95.