Andrew Zimmerman Jones Reviews Gamer Fantastic
Andrew Zimmerman Jones Reviews Gamer Fantastic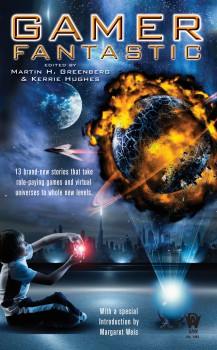 Gamer Fantastic
Edited by Martin H. Greenberg & Kerrie Hughes
DAW Books (309 pp, $7.99, July 2009)
Reviewed by Andrew Zimmerman Jones
Gamer Fantastic contains thirteen stories about games and gamers, taken in unusual fantasy and science fiction directions. Seven concern classic roleplaying games, while five are about computer gaming. (The other story, "Mightier Than the Sword" by Jim C. Hines, is harder to classify, more about authors and conventions than about gaming itself. Despite this, it was one of my favorites.)
A couple of the stories have no real "fantastic" elements at all. For example, in "Roles We Play" by Jody Lynn Nye, we are exposed to a historical narrative about how roleplaying games could have been used to develop an effective form of psychotherapy. Though aspects of the story are surreal, the "fantasy" is more psychological than literal, and the parallels between fantasy gaming elements and psychological elements are precisely what lend the story believability.
__________
Of the fantasy-oriented tales, many of them focus on scenarios where the games hold power. The most clear-cut example of this is Jean Rabe's "The War on Two Fronts." Several of the tales don't take the easy route, but instead go out of their way to blur the distinction between creator and creation, or between gamer and game. (The Hines tale fits this category, as do the stories by Ed Greenwood, S.L. Farrell, Brian M. Thomsen, Steven E. Schend, and Kristine Kathryn Rusch.)
As would be expected, most of the computer gaming stories turn out to be science fiction, though there are some twists. Steven E. Schend's "Being Played" uses computer gaming in a way that ends up tying science fiction and fantasy together nicely, and Bill Fawcett's "Mission from Hel" also contains some clever genre juggling. The more straightforward science fiction stories range from a detective investigation (Richard Lee Byers' "Griefer Madness") to using virtual reality simulations to circumvent real-world threats (a key element of both Chris Pierson's "Escapism" and David D. Levine's "Aggro Radius," though in very different ways).
The introduction by Margaret Weis and Ed Greenwood's closing tribute to Gary Gygax make this a must-have for gamers, but the real treasure is the stories themselves. Gamers will read these stories and see the best of themselves, and their gaming group, show up for the ride. Each and every story was a gem… some rougher than others, but all able to be traded for at least a few copper pieces and a slice of bread at a local tavern, should the need arise.
A slightly different version of this review originally appeared in Black Gate Magazine #14