Locus Online Reviews Black Gate 15
Locus Online Reviews Black Gate 15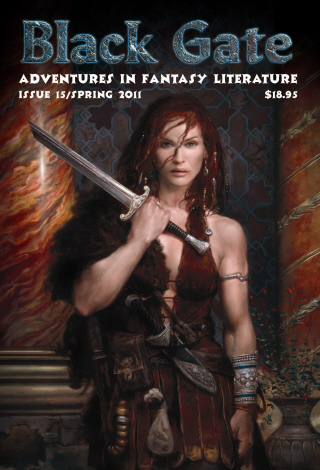 Lois Tilton at Locus Online is one of the most diligent short fiction reviewers in the industry, and she's been a friend and frequent champion of Black Gate for years. She's the first to check in with a complete (and I do mean complete) review of our latest issue, although as usual she's cranky about our fondness for series fiction:
I found much to praise in the last issue, and particularly the absence of the usual series stories. Possibly just to vex me, this time the zine has at least four new series and more sequels.
She had many kind words for the issue, including this about Jonathan L. Howard's "The Shuttered Temple":
Kyth the Taker… has taken a commission from the priesthood of Prytha to enter the Shuttered Temple, originally built years ago by an emperor whose power was being eroded by the Prythians. No one has yet survived the attempt… What Kyth is, besides broke, is apt at recognizing a trap when she sees it.

This one features the protagonist from one of the most enjoyable tales I've read in this zine, and the current story shares the same qualities of cleverness and ingenuity, with a light, engaging narrative.

–RECOMMENDED
We're fans of sequels and series, of course, because truly great characters and stories aren't always recognized immediately. Sometimes it takes a few installments for rich, complex fantasy to really find its audience.
Case in point: it's great to see that Lois now considers the first Kyth story, "The Beautiful Corridor" (BG 13), "one of the most enjoyable tales I've read in this zine." Especially since she dismissed it with faint praise in her original review, giving a "Recommended" label to the tale that followed it instead. It's frequently only in retrospect that rich fiction truly reveals itself, and the best way we know to keep exciting characters fresh in your mind  is to present them to you as often as we can.
And that's why we publish sequels. I'm glad it's working.