Goth Chick News: 13 Questions for Special Effects Artist Brian Demski
Goth Chick News: 13 Questions for Special Effects Artist Brian Demski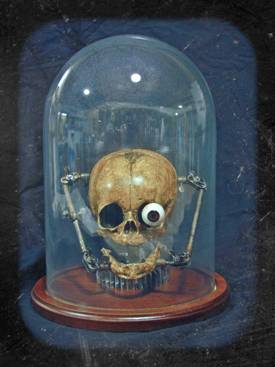 Let's be honest. A skull in a bell jar with an eyeball hanging off of it would attract anyone's attention, so you can't say it's just me.
Special effects artist Brian Demski's booth at the Haunted Attractions Show in St. Louis may have just as well grabbed my wrist in a boney hand for the hard left it caused me to take; out of an aisle of more latex body parts and straight into a Victorian Steampunk nightmare.
Over the next hour Brian talked me through his many skeleton-filled art pieces, molded by his own hands (directly from samples of the real thing, I might add).
The results are mesmerizing, disturbing and sure-fire conversation starters.
When I also learned that his "day job" was as a Hollywood special-effects creator, I knew I had to find out more.
So, may I introduce you to Mr. Brian Demski and his beautifully creative yet somewhat twisted imagination.
An Interview with Brian Demski
Conducted and Transcribed by Goth Chick, March 19-26, 2011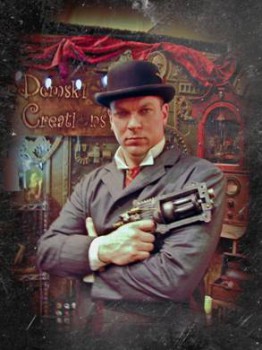 GC: You have a dual outlet for your creativity; one in special effects and one in your very unique art. Which came first and how did you get started? Was it to meet girls?
BD: I first found I had a hidden artistic talent all the way back in the 1990's and (the artwork) led into my film career. And yes… in those earlier years, my art and girls were both part of the deal!
Your Victor-Frankenstein-esque creations are beautiful and disturbing in equal measure. Tell me about the inspiration for your pieces.
I have been told my art is "morbid and classy". Over the past couple few years it has evolved into this more medical-oddity and steampunk look. My inspiration usually is beer and other extracurricular things…lol! I love the old vintage look of medical museums, and anything rusty and full of odd gadgetry.
You mentioned you are in contact with purveyors of "the real thing" (i.e. skulls and skeletons) which conjures images of unspeakable acts in graveyards. Assuming this isn't the case, how do you really come by these items? And if it is the case, never mind.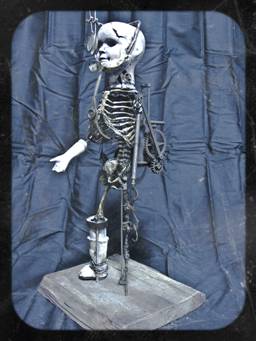 Using more real and authentic pieces just make each piece that much more interesting. I have collected real bones and skulls for many years; people who know me and what I do for a living, usually know I am up for a trade or buy!
eBay and a couple medical house suppliers are other outlets to purchase skulls and bones. I then completely mold and cast almost all my own stuff.
Besides your slavish fans here in the underground offices of Goth Chick News, who are the primary consumers for your art pieces?
Satan Worshippers, Vampires and little old ladies mostly. I have a few die hard collectors and usually anyone who digs one-of-a-kind pieces.
This all started with a store and great friend, Nancy Smith owner of Necromance in Hollywood, CA. This is where rock stars, private collectors and movie production people started buying my art in the 1990's.
Tell us about some of the movies you've worked on.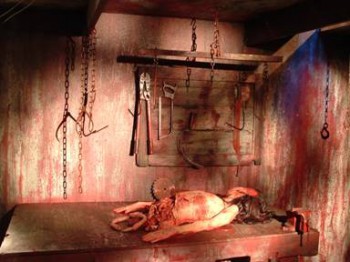 My early work was done with a buddy, Tim "Gore" Larsen. We did some stuff for a Skinny Puppy music video.
Other projects I've worked on over the years include Spawn, House on Haunted Hill, Battle Los Angeles, The Rage, I Am Number Four, and Hostel 3 just to name a few…
As with any career, competition must be fierce even when you have a very unique eye. What do you think is the key to translating artistic pursuits into a career in movie special effects?
Well, you must learn as much as one can possibly take in… trying to be well rounded in all areas. If you're pigeonholed into a certain job or position, it limits your opportunities.
Being in this business, there is still stuff to learn almost all the time so brushing up on the latest techniques and materials is always key!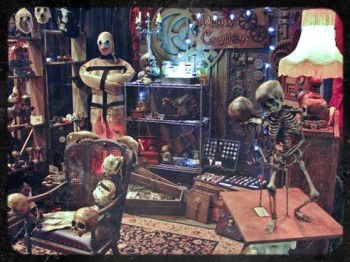 Of all the special effects you've created, which was your favorite, where did it appear and what was it about that effect that made it special?
I think when I worked on Robert Kurtzman's The Rage; with the small budget, the time constraints, and all of the different positions we performed (from set dressing to building sets) it was most rewarding… all the way.
Making props, puppeteer-ing, splattering blood, spraying blood, acting, running fog machines, building gory bodies and mutant vultures etc; all the hard work and long hours and then watching a non stop bludgeoning of horror and gore was definitely the coolest!
(GC Note: Stay tuned for an upcoming interview with Robert Kurtzman; coming soon)
What project(s) are you currently working on?
I'm working on a lot of orders that I received from the St. Louis Transworld Haunt Convention and a few special effects for a small project up in Michigan.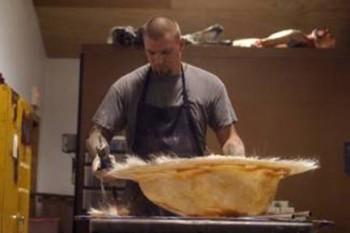 (GC Note: If he told us, he'd have to kill us)
If money, space and materials were limitless, what would your dream creation be?
My brain goes in so many different directions… lol… I think it would be something along the lines of a steampunkish Mutter Museum. Yeah… something like that!
One of my favorite pieces is your Vampire Hunter's kit. Was this inspired by a movie you worked on or a personal interest?
Hmm… really I think I felt like I wanted to build a kit and just kinda did it. I'd love to go more elaborate, but that usually drives up the price to where it's no longer affordable for most people at a show.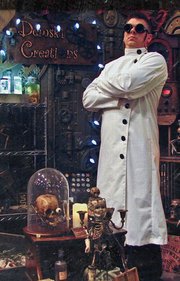 Is there a special effect artist or body of work that you particularly admire? If so, why?
I would have to say its hard to nail these down….in effects and film it would have to be Lon Chaney Sr. The Man of A Thousand Faces. Other artists who I own personally are Joel-Peter Witkin, Dean Karr and Kris Kuksi.
(GC Note: Check out the links to these artists. Brian has extremely good taste).
I learned from researching your work that you contributed to our favorite musician-turned-movie-mogul Ed Douglas' masterpiece, The Dead Matter. What bits in particular, was your work?
Let's see its been awhile… I made the jaw that gets ripped off , the large monoliths were completely made from scratch and painted by me and Sean Rodgers.
I did a few of the zombies' makeup from The Reformatory and in the cemetery scene. I also played a Nazi zombie and a vampire junkie!
If Black Gate readers want own one of your pieces for themselves, where can they find you?
At www.demskicreations.net or on Facebook at www.facebook.com/bademski.
---
So, what do you think and have you started saving your pennies yet? Post a comment or drop me a line at sue@blackgate.com.