Interzone March-April 2011
Interzone March-April 2011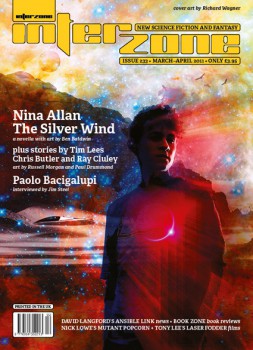 In the mail this week is the latest Interzone. The  fiction features a novella by Nina Allan, "The Silver Wand," and stories by Tim Lees ("Crosstown Traffic"), Chris Butler ("Tell Me Everything"), and Ray Clule ("Tethered to the Cold and the Dying").
The magazine is the print home for David Lanford's "Ansible Link," a miscellany of genre news. I found this item from the regularly featured "As Others See Us" department particularly humorous:
Kazuo Ishiguro's clone-themed novel Never Let Me Go can't be sf even though he says it is, because he's respectable. To clarify: "It isn't science fiction–indeed its procedures are the very reverse of generic, for there is no analogy at work in the text, which instead labours (sic) to produce its iterative naturalism as a kind of sub-set or derivation of our own." (Guardian)
That certainly clears things up.