Book Review: The Heroes by Joe Abercrombie
Book Review: The Heroes by Joe Abercrombie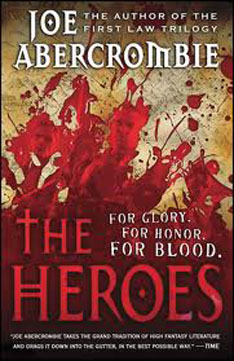 The Heroes, by Joe Abercrombie
Orbit (560 pages, $24.99, February 2011)
After the lively discussion of two weeks ago regarding the decline and fall of modern fantasy begun by Leo Grin, I find a certain ironic pleasure in being able to unequivocally declare that Joe Abercrombie is, without question, the best writer of fantasy military fiction being published today. Were it not for the fictitious medieval setting, The Heroes would barely qualify as fantasy at all, but even so, as pure military fiction, Abercrombie compares favorably with David Drake, Ralph Peters, David Weber, and even Tom Clancy post-Red Storm Rising. I quite enjoyed the book and very much look forward to reading more of Abercrombie's dark and bloody work in the future.
The Heroes is a standalone novel that utilizes many characters from Abercrombie's popular epic nihilism series, The First Law. It is a small-scale tale of a three-day battle between the Union and the newly crowned King of the North, and is somewhat reminiscent of historical tales of Gettysburg and other epic battles in the way the action tends to revolve around the physical environment, such as the prehistoric monuments on the large hill that provide the novel with its title. The title is more than a little tongue-in-cheek, as it happens, given that the theme of the book, smashed home as ferociously as one of Abercrombie's anti-hero's heavy swords hammers into the skull of a vanquished enemy, is that there are no heroes and victorious battles and heroic deeds alike go ultimately for naught.

Style: 5 of 5. Abercrombie has clearly read a great deal of military history and it shows, as The Heroes reads much more like historical military fiction than it does like conventional fantasy, epic or otherwise. If this was Abercrombie's goal, and I would find it hard to imagine that he intended otherwise, he succeeds admirably.  There is a clear distinction between the crude dialogue of the barbaric Northmen and the civilized language of the Southerners, and Abercrombie shows a skilled and humorous touch in utilizing letters to illustrate the vast gulf between what the King's Observer is reporting and what he is actually doing.  In the chapter entitled "Casualties", Abercrombie shows off some minor literary pyrotechnics in tracking from one violent encounter to the next in what is almost a cinematic device.  It's not new, but it has seldom been done better, in or out of the fantasy genre.
Story: 4 of 5. The Heroes is gripping throughout, from the first relatively friendly encounter between the scouting elements of the two armies to the bloody and ferocious culmination of the battle.  The plot is convoluted and political, and is much larger in scope than the tactical scale of the book would seem to suggest. Both the story of the battle as well as the underlying political struggles are fascinating; although the dénouement may be considered to be mildly unsatisfactory by some, it is nevertheless fitting considering the overall theme.
Characters: 3 of 5. Abercrombie's characters are an unusually mixed bag. On the one hand, he paints effective and insightful portraits of characters who are psychologically weak, tired, dishonest, self-doubting, self-serving, short-sighted, and sexually inadequate. Since this description covers nearly all of the major characters in the book, it is understandable that many readers will consider the characterizations to be among the strongest aspects of the book. On the other hand, the few, the very few, characters who are strong and self-confident are either black boxes or transparent charades. Abercrombie writes such vivid and compelling characters within his limited framework that one almost wants to shake him and encourage him to step outside his gamma box. It's amusing to contemplate a hypothetical version of Romeo and Juliet written by Abercrombie, as most of the Montagues and Capulets would have died in an incredibly violent manner but Juliet would still be alive since Romeo would never have dared to talk to her in the first place.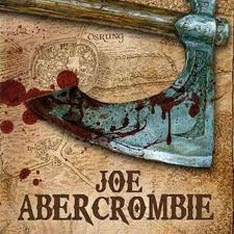 Originality: 2 of 5. Abercrombie's setting is conventional European medieval low fantasy that is incoherent in terms of technology, religion, and philosophy in the tediously predictable manner of most modern fantasy. It is psychologically modern throughout, which is more than a little jarring when juxtaposed with the determined pursuit of medieval realism in other areas. The excellent stylistic imitation of military history aside, there is virtually nothing that is new here in terms of ideas, themes, characterizations, or settings.
Overall: 7 of 10. As entertaining a read as it is, The Heroes nevertheless represents somewhat of a missed opportunity. It is a very good novel that contains the potential to have been a great one. When Abercrombie learns to write characters that cover the full range of the human spectrum rather than the partial range to which he presently restricts himself, I suspect he will be able to make a legitimate bid for greatness in the genre. Abercrombie's talent is enormous and his commitment to detail is impressive, but the scope of his vision is presently limited by his attachment to modernist dogma and his adherence to the inept psycho-sexual norms of the fantasy genre. Should he elect to rise to those two challenges, I see no reason that he will not surmount them and eventually surpass the likes of Michael Moorcock and George R.R. Martin. But he is already well worth reading and I have no hesitation in strongly recommending The Heroes to any fan of military fiction or epic fantasy.
Test Sample: 'I hear you saved the army today.'

He spun about with all the dignity of a startled baboon and found himself staring into Finree's face at paralysingly close quarters. News of her marriage should have allowed him to finally bury his feelings for her as he had buried all the others worth having. But it seemed they were stronger than ever. A vice in his guts clamped down whenever he saw her, screwed tighter the longer they spoke. If you could call it speaking.

'Er,' he muttered. I floundered around in a stream and killed seven men that I am sure of, but without doubt maimed several more. I hacked them apart in the hope that our fickle monarch would hear of it, and commute my undeserved sentence of undeath. I made myself guilty of mass murder so I could be proclaimed innocent of incompetence. Sometimes they hang men for this type of thing, and sometimes they applaud. 'I am … lucky to be alive.'

She came closer and he felt a dizzy rush of blood, a lightness in his head not unlike serious illness. 'I have a feeling we are all lucky you are alive.'

I have a feeling in my trousers. If I was truly lucky you would put your hand down them. Is that too much to ask? After saving the army, and so on? 'I…' I'm so sorry. I love you. Why am I sorry? I didn't say anything. Does a man need to feel sorry for what he thinks? Probably.

She had already walked off to speak to her father, and he could hardly blame her. If I was her, I wouldn't even look at me, let alone listen to me squeak my halting way through half a line of insipid drivel. And yet it hurts. It hurts so much when she goes. He trudged for the door.

Fuck, I'm pathetic.