Frank M. Robinson's Legendary Pulp Collection for Sale
Frank M. Robinson's Legendary Pulp Collection for Sale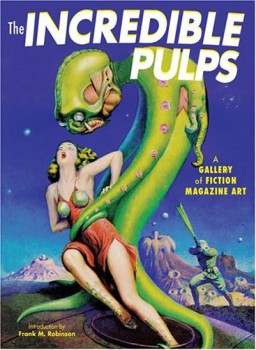 One of the largest and most impressive pulp collections in the world is now for sale.
Pulp historian and author Frank M. Robinson, whose books on pulps include The Incredible Pulps, Pulp Culture: The Art of Fiction Magazines, and Science Fiction of the 20th Century: An Illustrated History, is selling his collection of nearly 10,000 pulps magazines. The sale will be conducted through John Gunnison's Adventure House Auctions.
Adventure House has prepared a YouTube video showing a small sampling of the pulps in the collection, including Weird Tales, Spicy Mystery, The Thrill Book, Submarine Stories, Pirate Stories, and Doc Savage, here.
Highlights of the collection include rare pulps such as Ghost Stories, Miracle Science Fiction and Fantasy, Tales of Mystery and Imagination — and ultra-rare gems such as Gun Molls, Courtroom Stories, Saucy Movie Tale, Mystery Adventure, and the only only known copy of the June 1929 issue of Zeppelin Stories, which includes the near-legendary tale "Gorilla of the Gasbags." 58 of the rarest issues in his collection are included in the MagazineArt Gallery (do a search on Frank M. Robinson).
I'm not sure how I feel about this. I'm glad the collection appears to be being kept together. But there's no way I can buy it without winning a lottery.
I wonder if Patrick Rothfuss will offer to buy it for me.