New Treasures: Too Many Curses by A. Lee Martinez
New Treasures: Too Many Curses by A. Lee Martinez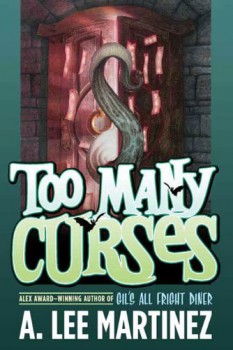 I have the week off between Christmas and New Year's. Much of will be spent laying out Black Gate 15, to be sure, as well as catching up on my towering e-mail backlog.
But if you can't recline in the glow of the Christmas tree and read at least one new book, it hardly counts as a vacation, does it? Santa brought me several great titles this year, but the one I've got my eye on at the moment is the latest novel by A. Lee Martinez: Too Many Curses. Martinez is the author of The Automatic Detective, Gil's All Fright Diner, and A Nameless Witch, and his newest promises to continue in the same light-hearted vein as those:
The wizard Margle the Horrendous takes special pride in never killing his enemies. Instead, he transforms them into various accursed forms and locks them away in his castle. His halls are filled with his collection of fallen heroes and defeated villains, along with a few ordinary folk who were just unfortunate enough to draw Margle's attention.

It's Nessy's duty to tend this castle. It's a lot of work, but she manages, taking pride in housekeeping talents that keep the castle from collapsing into chaos. But when Margle suddenly dies, everything begins to unravel. Nessy finds herself surrounded by monsters, curses, a door that should never be opened, and one very deadly dark wizardess.
Happy Holidays to all Black Gate readers out there, and here's hoping that your loved ones found a way to express their affection for you in the form of a great book.