Harlan Ellison Struggles to Sell Early Typewriter
Harlan Ellison Struggles to Sell Early Typewriter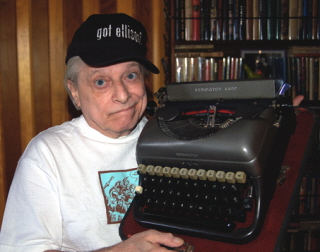 Harlan Ellison is selling his first typewriter.
Following the sale of Jack Kerouac's typewriter for $22,500 at Christie's in New York on June 22, interest in genre circles was high to see what kind of demand there would be for a similar relic from the famed science fiction writer. The item in question is a used Remington Rand "noiseless" portable dating from around 1936 to 1940, used by Ellison until he turned eighteen. Now David Silver, the man brokering the sale, reports at Harlan Ellison Webderland that he is having trouble attracting serious bids:
Way back in September, Harlan asked me to go forward and attempt to sell his extremely precious first typewriter…  but I met with virtually no success. There was a lot of "Harlan who?" or (gasp!) "You mean that Star Trek guy?" or similarly uninformed responses…. Everywhere I found mentions of the sale, I couldn't help but feel they all lacked any real element of care…  I wasn't expecting anybody to lie for Harlan, to invent anything, or to reinvent the wheel. I simply thought MANY of you would get excited… Stand up, spread your arms, and yell at the world, "C'mon, all you dumb asses with the money and the initiative to take ADVANTAGE of this opportunity, WHAT ARE YOU WAITING FOR?! Are you STUPID?! Do I gotta spell it out for you?! SHOW HARLAN THE MONEY!!" … We're talking about a first tier unique collectible item with an asking price of $40,000!!
Ellison, who announced he was leaving the internet on July 6 in a short Goodbye note (saying "I've finally had as much of the internet as I can bear"), returned to posting at Harlan Ellison Webderland on July 26. The home page of the Webderland has been replaced with detailed information on the typewriter.
No closing date for the sale has been announced.