Interzone #229 Arrives
Interzone #229 Arrives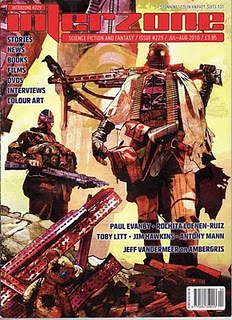 And by arrives, I mean I finally found a local bookstore — Barnes & Noble, in Champaign, Illinois — that carries it at a reasonable price ($7.50 US).
I like Interzone. This British science fiction magazine has had a long and illustrious history, and has published some terrific work. They've also had some really great covers, especially in the last few years. (Okay this issue, with the Lego Road Warriors look, maybe isn't the best example.) If I could find a domestic distributor, I'd subscribe in a heartbeat.
Still, it's worth the hunt every two months. The full-color interiors and top-notch design give the zine a distinct look and real appeal. My favorite features are frequently the non-fiction — including Nick Lowe's Mutant Popcorn film column, Tony Lee's Laser Fodder DVD articles, David Langford SF gossip column Ansible Link, and especially the book reviews, which provide an often tantalizing look at British SF and fantasy titles. 
Fiction this issue is by Jim Hawkins, Rochita Loenen-Ruiz, Toby Litt, Antony Mann, and Paul Evanby. There's also an interview with Finch author Jeff VanderMeer, and an editorial.
Interzone is published by TTA Press, and edited by Andy Cox and Andy Hedgecock.  Their website is here.