Adventures in Pulp Awesomeness, Part Deux: Planetoids of Peril
Adventures in Pulp Awesomeness, Part Deux: Planetoids of Peril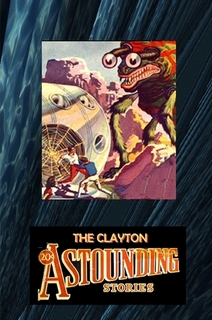 Back in April we told you about the first volume of this excellent new Clayton Astounding reprint series, compiled by Dark Worlds editor G.W. Thomas: Vagabonds of Space.
Vagabonds collected the best Space Opera from the Clayton years, the first three years of the most honored science fiction magazine in history: January 1930 – March 1933, when it was briefly owned by Clayton Magazines. This was the era before the pulp magazine was renamed Analog in 1960; even before the name was changed to Astounding Science Fiction — when it bore its original title, Astounding Stories of Super-Science, and was edited by Harry Bates, a skilled writer and editor whose landmark 1940 Astounding story "Farewell to the Master" was adapted as the classic film The Day the Earth Stood Still.
The Clayton years preceded the so-called Golden Age of Astounding when, under legendary editor John W Campbell, it discovered and promoted the work of young new writers such as Isaac Asimov, Robert A. Heinlein, and Hal Clement. The fiction in the Clayton Astounding was raw, undiluted Buck Rogers stuff; the tales that first established the genre and defined for the American public what science fiction was all about.
G.W. Thomas followed Vagabonds with Out of the Dreadful Depths, pulp tales of undersea adventure, and now comes the third volume, Planetoids of Peril:
Not the Golden Age Astounding of John W. Campbell but the fun, Bug-Eyed-Monster-filled pulp of SF adventure. This volume is filled with tales of planets and moons covered with alien monsters and terrible chills. Featuring work by Anthony Pelcher, Sewell Peaslee Wright, Edmond Hamilton, Charles W. Diffin, Paul Ernst and Robert H. Wilson. With introductions and commentary by G. W. Thomas.
The Clayton Astounding: Planetoids of Peril is available from Lulu, priced at$13.99 for 218 pages. It's also available in electronic format for just $4.99.