Fantasy & Science Fiction: Sept/Oct issue
Fantasy & Science Fiction: Sept/Oct issue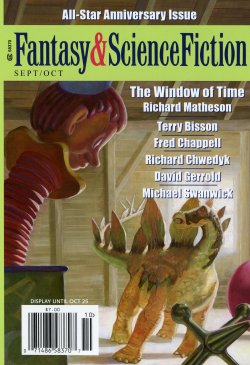 I love these big double issues of Fantasy & Science Fiction (and when did it drop "The Magazine of…" from its name on the cover?  A quick look through the back issues I have handy shows it was at least a decade ago, maybe longer. Wow. Thank God my job does not rely on razor-honed powers of observation.)
Why do I love them? For one thing, these big double issues are BIG.  This All-Star Anniversary Issue is 258 pages; including "Orfy," a big new novella from Richard Chwedyk in his "saur" series about sentient dinosaur toys; four big novelets from Dale Bailey, Fred Chappell, and others; and a big selection of short stories from Michael Swanwick, Terry Bisson, Richard Matheson, and others — including the hilarious "F&SF Mailbag" by David Gerrold, crafted as a series of letters from Gerrold to editor Gordon van Gelder, which opens:
Dear Gordon,

Re: Your recent announcement that you will be outsourcing the jobs of domestic science fiction writers to cheaper-working authors in parallel dimensions.

I take pen in hand to object most strenuously.
Figures Gordon would scoop us — I only wish I'd thought of it first.  Speaking of Gordon, when we asked about the issue he told us:
I edited the Sept/Oct issue from the veranda of my palatial estate on Barsoom, where I was watching filming of a new movie. Tried to get Terry Bisson to come visit but he was busy with a political rally. Rich Chwedyk friended me on Facebook and I was surprised to learn that his "saur" stories are nonfiction, location of the real house is undisclosed. The letters cited in the intro to David Gerrold's story are all real.
The only part I don't believe is the bit about the letters.  You can buy copies at better bookstores for $7, or order a subscription to [The Magazine of] Fantasy & Science Fiction and experience some of the best our field has to offer here.