An epic re-read: Steven Erikson's The Malazan Book of the Fallen
An epic re-read: Steven Erikson's The Malazan Book of the Fallen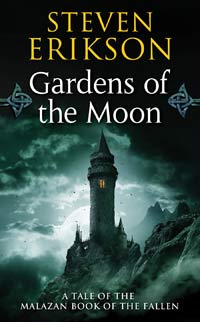 Over at Tor.com, bloggers Bill Capossere and Amanda Rutter have commenced an epic re-read of all ten volumes of The Malazan Book of the Fallen, starting with the first novel, Gardens of the Moon.
What's a "re-read?"  Modeled after Leigh Butler's monumental Wheel of Time re-read, also at Tor.com, the authors will read and examine the series, one volume at a time. After each book is completed, authors Steven Erikson and Ian C. Esslemont promise to swing by the blog to share their reactions to the posts and discussions from fans and bloggers.
Naturally, this is all leading up to publication of the final installment in the bestselling series, The Crippled God, coming from Tor Books on February 15, 2011.
How time flies.  When my friend Neil Walsh and I were just getting started in Internet publishing at SF Site over a decade ago, one of the first books Neil drew attention to — with a rave feature review in 1999 — was the UK edition of Gardens of the Moon.
That review (and a few others like it) got a lot of press in the early days of online marketing, and we were cited in a New York Times article as a component in the negotiations leading to Erikson's 6-figure deal to complete the series. Erikson even called Neil to thank him, gentleman that he is.
Here's Amanda's commentary on the Prologue:
I'd been warned. Anyone who has read the Malazan books — and even the author himself — states that these books are a challenge. You have to pay attention. No skimming merrily over blocks of descriptive passage. No glossing over the dialogue between characters. Concentration is the name of the game here, people!
        So I paid attention through the mere six pages of the prologue, and I'm a little stunned as to what was packed into so short a space.
You can jump on here.