Locus magazine announces the 2010 Locus Awards Winners
Locus magazine announces the 2010 Locus Awards Winners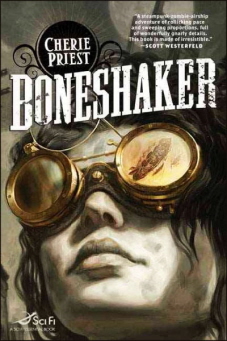 The 2010 Locus Awards winners were announced today, at the annual Science Fiction Awards Weekend in Seattle. The winners include:
     Best SF Novel: Boneshaker, Cherie Priest (Tor)
     Best Fantasy Novel: The City & The City, China Miéville (Del Rey; Macmillan UK)
     Best First Novel: The Windup Girl, Paolo Bacigalupi (Night Shade)
     Best Young Adult Book: Leviathan, Scott Westerfeld (Simon Pulse; Simon & Schuster UK)
     Best Novella: ''The Women of Nell Gwynne's,'' Kage Baker (Subterranean)
     Best Novelette: ''By Moonlight,'' Peter S. Beagle (We Never Talk About My Brother)
     Best Short Story: ''An Invocation of Incuriosity,'' Neil Gaiman (Songs of the Dying Earth)
     Best Anthology:  The New Space Opera 2, Gardner Dozois & Jonathan Strahan, eds. (Eos; HarperCollins Australia)
     Best Magazine: The Magazine of Fantasy & Science Fiction
The Locus Award has been presented annually since 1971. It's given to winners of Locus magazine's annual readers' poll. You can find the complete list of winners at Locus Online.
Congratulations to all the winners!