Black Gate 14 Sneak Peek: "La Senora de Oro" by R.L. Roth
Black Gate 14 Sneak Peek: "La Senora de Oro" by R.L. Roth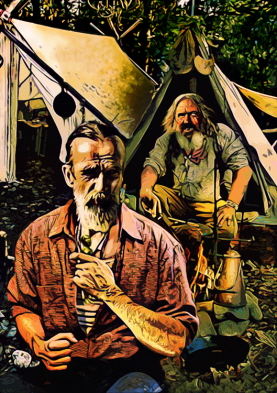 She was tiny, beautiful… and crafted of pure gold. Her gifts were pure as well: gold, and madness.
       George took me aside yesterday & he said me & him shoud strike off on our own again. He doesn't like how things are getting. I told him to bide his time just a bit longer so we can get a little more Gold & then be off home. We need the Gold lady to find the Gold so we have to stay. George says it is a foul charm that needs Blood to work. He thinks the Gold lady is the Devil. I said the Devil has better things to do then live in a little statue. Even if George is right I will leave soon with my Gold & leave the Devil behind.
      I think & dream of home all the time now. In my dreams we are rich & powerful.
R.L. Roth lives in Canada. This is his first published story.
 "La Senora de Oro" appears in Black Gate 14. You can read a more complete excerpt here. The complete Black Gate 14 Sneak Peek is available here.
Art by Malcolm McClinton.