Black Gate 14 now available in PDF
Black Gate 14 now available in PDF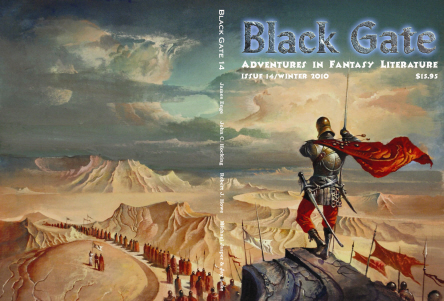 Black Gate 14 is now available in PDF format for just $4.95. 
Black Gate 14 is a landmark issue ­ and at 384 pages, it's also the largest in our history. The print version retails for $15.95, but now you can order the complete magazine — including the wraparound cover — for the same price as all our PDFs: $4.95/copy, or as part of a 4-issue PDF subscription for just $17.95.
Existing subscribers can purchase the issue for just $2.95.
Here's what  Grasping for the Wind has to say about our latest issue:
One of the best collections of fiction on the market – whether books, magazines, or online. The latest edition has just been released, and Black Gate 14 is massive, topping out at 384 pages …  this massive collection of fiction shows why, even with their irregular publishing schedule, Black Gate is one of the most popular magazines (print or online) available today.
The issue includes a Morlock novella from James Enge, and new fiction from John C. Hocking, Michael Jasper & Jay Lake, Pete Butler, Robert J Howe, Martin Owton, Chris Braak, Matthew David Surridge,  and much more — including an 8-page Knights of the Dinner Table strip!
The complete Table of Contents, with artwork and brief story excerpts, is here, and you can read the complete reviews from Grasping for the Wind and Locus Online here.
Order the magazine on our Subscription page here.
Cover art by the great Bruce Pennington.