Goth Chick News: A Long, Weird Journey
Goth Chick News: A Long, Weird Journey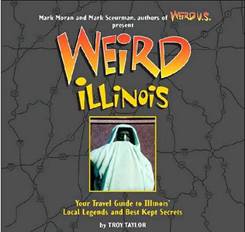 Weirdness surrounds you, trust me.
I know that's a bold statement considering the only thing I know about you is that you're a Black Gate fan, but then again, one might argue that information alone is enough.
But I can go one step further; I can actually prove it.
Just head over to www.weirdus.com and click on "stories by state." OK, you won't find anything there yet, as this part of the website isn't completely finished. But if you click on "stories by category" you'll find the categories broken up by state and you'll see what I'm talking about.
What you have just discovered is that no matter where you live in the good old US of A, there are stories about your hometown that will likely curl your hair. If you're very lucky, enough stories have been gathered by the research team of Mark Moran and Mark Sceurman to create an entire book. So far there are thirty in all with new ones being released every six months or so.
Weird Illinois hit the book stores in 2005, and when I picked up my copy I hunkered down on a Sunday afternoon and didn't get up until I had turned the last page. The stories ran the gambit from urban legend to documented hauntings, to real events grotesque enough to barely be believable. The local editor Troy Taylor (each book has someone from that state doing the heavy lifting) says the stories are all chosen for being a little "left of center."
That's an understatement.

For several years I have mulled over the idea of taking a road trip to see the weirdness for myself. Most of the locations are described in enough detail to track them down with a little help from someone who lives in the area, and most are within a day's drive of home.
So armed with my Google maps, I plotted a course, threw some chips and Dr. Pepper in the back seat, and then the long-suffering Mr. Goth Chick and I were off to see if we could duplicate the experiences documented in Weird Illinois.
In our week-long odyssey we located and visited eleven of the over one-hundred places discussed in the book, but there are several that stand out in their weirdness. I'm going to tell you about them over the course of several future entries, so place your tray tables and seatbacks in the upright and locked position. Here we go…
The Monmouth Railroad Tracks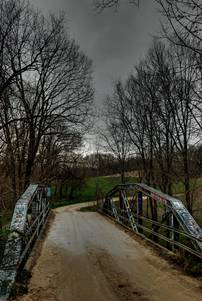 The small town of Monmouth, about three hours west of Chateaux Goth Chick, is home to an urban legend that has all the makings of a story passed down from generations of older siblings to scare the crap out of the younger members of the family.
Though there are variations, the general tale is that sometime in the late 1800's a group of children aged five to thirteen stole a horse and buggy to go on a joy ride. Where the dirt road crossed railroad tracks, the thirteen-year-old driver attempted to beat an oncoming train when the buggy wheels became stuck in the tracks.
The train hit the buggy and all of the children, who were frozen to their seats with fear, were killed. Locals claim there is a small cemetery a few miles down the road from where the train crossing used to exist which contains the graves of the children, but we were unable to find it.
However, this story gets way better.
Folklore claims that if you stop your car and put it in neutral in the spot where the road crossed the tracks, the ghosts of the children will push your car out of the way, presumably to prevent you from being hit by that fateful, oncoming train.
The railroad tracks are now gone, taken out by the Louisville and Southern Railroad Company years ago, but apparently this doesn't deter the ghosts. However, finding this long-forgotten crossing nearly deterred us. Monmouth is still a rural farming community without many named roads running through the fields which are barren this time of year, so mostly what you see is overturned dirt stretching for miles in every direction. Upon arriving in town it became immediately clear that the spot wasn't going to be easy to find.
The good news is that every local knows the story and though it took a couple of stops, we soon found the place where the road had once crossed the tracks.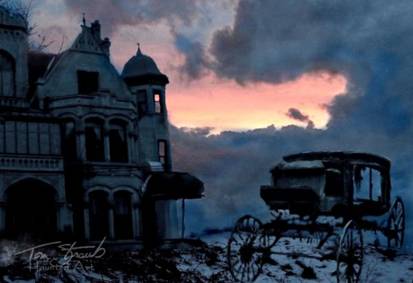 Let me pause here for a moment to tell you that everyone we talked to had some sort of first hand knowledge of this haunting. In fact, a few people encouraged us to sprinkle baby powder on our trunk because small hand prints would appear in the dust as we were being pushed out of danger.
At this point Mr. Goth Chick was over this whole thing and was wondering if there was any good places to eat in Monmouth, but I insisted that as we'd come all this way, we should at least finish the experiment.
My first thought — as I'm sure was yours — is that the road slopes, causing cars to roll one way or the other. But the stretch of road in question is visually flat, though you can see the scar in the earth stretching into the horizon on the left and the right where the railroad tracks used to be.  At about 3:30 pm on a blustery and rainy afternoon, we pulled the car across the correct spot on the road, stopped, and put it in neutral. We sat there in silence for a few minutes, until Mr. Goth Chick brought up the idea of eating again, just before the car started to creep forward.
We looked at each other and simultaneously said, "No way."
As this whole adventure was my bright idea, I was driving, and reflex made me immediately step on the brake. The car stopped as expected, but when I took my foot off the brake the car immediately lurched forward, rolling about twenty yards before coming to a stop. Mr. Goth Chick picked this time to inform me in a whisper that he thought he heard feet on the gravel behind the car.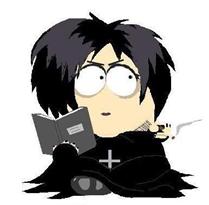 If you ever go to Monmouth to try this out for yourself, the skid marks you'll see down Rt 34 are most definitely mine. And though we'd planned to find a local bed and breakfast to spend the night, I didn't let up on the gas peddle until we were nearly back in the city.
Ghosts – 1, Goth Chick – 0
I've since tried to rationalize the weirdness we encountered. Some incidents are easier to explain away after the fact than others. Did we take pictures or video of critical events? Nope. Too busy screaming my lungs out, which is why there isn't a lot of credible ghost evidence.
The bottom line is that I've gone on a lot of professionally organized ghost expeditions, and none of them resulted in the kind of stories I now have from this road trip.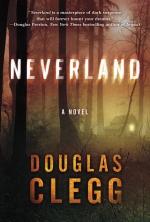 But the really great news is that for the most part, all this costs you to do is a tank of gas and some munchies, and you too can organize your own creep-fest using www.weirdus.com or another source of local legend. Check out the craziness you're likely living smack in the middle of, and when you do, I hope you'll tell us all about it.
Until then, Mr. Goth Chick has suggested Vegas for our next vacation.
Oh – when I got home I had the pleasure of chatting with Douglas Clegg about his new, trade-paperback release of Neverland. But I'll tell you all about that next week.