Adventures in Pulp Awesomeness: The Clayton Astounding
Adventures in Pulp Awesomeness: The Clayton Astounding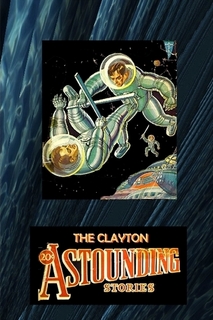 Over at Dark Worlds, editor G.W. Thomas has completed the first of three planned reprints of the Clayton Astounding, the first incarnation of the grand old lady of science fiction.
Astounding changed its name to Analog in 1960 and continues to publish today, 80 years after its first issue hit the stands in January, 1930. In an era when most genre magazines last only a handfull of issues, that's an incredible run.
During most of that time it's been the single most important magazine in the field, discovering such names as Isaac Asimov, Robert Heinlein, A. E. van Vogt, and literally hundreds of others.
The first volume of this new series, The Clayton Astounding: Vagabonds of Space is 212 pages in paperback, and is now available at Lulu for $13.99.
This volume collects the best Space Opera from the Clayton years. According to Thomas, future volumes will include Out of the Dreadful Depths (undersea tales), Planetoids of Peril (stories set on moons, planets, and asteroids) and possibily "a book of space invaders, robots and mechanical enemies." Yeah baby.
Here's the description from Lulu:
Before John W. Campbell's "Golden Age" (beginning in 1938) editor Harry Bates created an SF Pulp that was meant to entertain with stories of adventure and action in outer space and on far planets. This magazine has become known as "The Clayton Astounding" to delineate it from later incarnations. The first volume, VAGABONDS OF SPACE, represents the best Space Opera from the magazine's first run of 1930-1933. Features stories by Harl Vincent, Edmond Hamilton, Anthony Gilmore, Sewell Peaslee Wright, Nat Schachner, Edwin K. Sloat and Jack Williamson. Each author is introduced with commentary by G. W. Thomas.
Fiction from an era when "space opera" meant sword fights in space with weird metal sticks.  All I need to know. You had me at "adventure and action in outer space and on far planets."
Looking forward to the next volumes.