Black Gate 14 Sneak Peek: "The Lady's Apprentice" by Jan Stirling
Black Gate 14 Sneak Peek: "The Lady's Apprentice" by Jan Stirling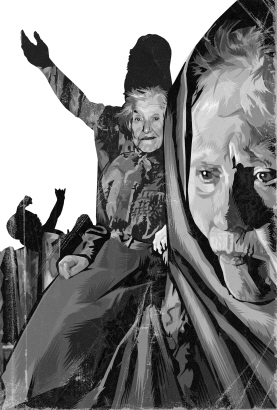 Lady Nyla was once rich and powerful. Now she lived in a hut on a lonely road. But tonight the Mother Goddess gave her back a measure of her old power — to set her against a terrible foe.
      Nyla lay upon her stomach on the frozen ground and watched the black magician work. He and his familiar concentrated on the task at hand, unaware of being watched. They had not wasted energy on wards against humankind, for they feared no mundane danger on this bitter night. But from the protections they had drawn they were mortally afraid of the thing they summoned.
      The baby lay upon the altar, loosely wrapped in purple cloth. Occasionally it wriggled and let out a weak cry as it suffered in the cold.
      The familiar, she decided, was the weak link.
Jan Stirling's first sale was to Esther Friesner for Chicks In Chainmail. She lives in New Mexico.
"The Lady's Apprentice" appears in Black Gate 14.  You can read a more complete excerpt here.
The complete Black Gate 14 Sneak Peek is available here.
Art by Matthew Laznicka.