Goth Chick News: A Strange Surf
Goth Chick News: A Strange Surf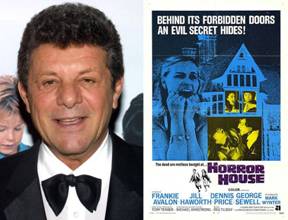 In spite of the fact that I spend a good portion of each day on the computer, surfing the net for the sheer fun of it never loses its appeal.
On these occasions, my favorite tactic is to put a word grouping in Google, and just follow wherever it leads.
Today that produced some truly intriguing results. And though you may think this is a lame blog topic, probably brought on because I'm hung over and didn't have any other ideas, I say "NO!" I never touch the stuff on school nights (though if my posting day were Sunday instead of Thursday, you might have a point.)
Now that we've cleared that up, see if you don't agree this is downright strange stuff.
I started out with the following in Google:
"strange celebrity horror movies"
With these key words I found a fascinating article on About.com called "The 15 Most Unlikely Horror Movie Stars" which was a find indeed, being that I'm a rabid fan of cheesy scream-fests. Though some of these weren't news, a few were complete surprises which I quickly added to my Netflix list.

Frankie Avalon, 'Horror House' (1969) and 'Blood Song' (1982)
A wholesome teen idol of the '50s and '60s, Frankie Avalon transitioned from beach party films of the mid-'60s to the surprisingly dark and violent British film Horror House (AKA The Haunted House of Horror).
Horror House is a forerunner of American slashers that follows the now-standard formula: a group of (30-year-old) teens decides to party in an old abandoned mansion, only to find themselves being bumped off by a mysterious figure.
More than a decade later, Avalon would star in the even darker Blood Song as an escaped mental patient who stalks the teenage girl who received his blood in a transfusion, leaving a trail of bodies in his wake.
Eminem, 'Da Hip Hop Witch' (2000)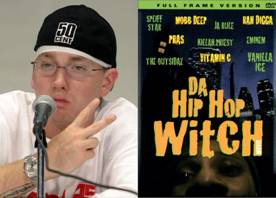 One of dozens of spoofs that arose in the wake of The Blair Witch Project, Da Hip Hop Witch is possibly the worst of the lot.
It's no wonder, then, than multi-platinum rapper Eminem tried to get his cameo removed from the so-called "film."
While half of the movie has some semblance of a plot — five suburban kids venture to the city in search of the legendary "Black Witch of the Projects" that's been terrorizing rappers — the other half features improv monologues from rappers like Eminem, Pras, Ja Rule, Killah Priest and Mobb Deep giving testimonies of their supposed encounters with the witch.
As you'd expect, the monologues are stammering messes that test the limits of how many "knowwhatimean"s and "y'knowwhatimsayin"s a human can digest.
The genius who put this list together is regular contributor to About.com, Mark H. Harris. A horror movie critic for over 20 years, Mark has his own web site, and his blog is our next stop.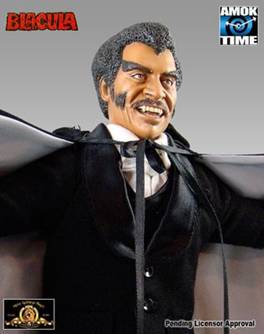 Black Horror Movies.com is a fairly simplistic web site dedicated entirely to black people in horror movies; or as Mark puts it, it documents his "experiences as a black horror movie fan: seeing hundreds of black people stabbed, chopped up, and eviscerated without so much as a "rest in peace" or even a "sorry, my bad."
Under the "What's New" section I found an advertisement from a company called "Amok Time" for a soon-to-be-released, 12-inch Blacula doll with three interchangeable heads.
OK, this is priceless.
Blacula is a 1972 film about an African prince-turned-vampire who's brought back to life when interior decorators buy his coffin and ship it to Los Angeles.
The African prince starts feeding his hunger while following a woman who looks like his departed wife.
In the 38 years since its release the movie has risen to cheesy horror movie cult status, bringing us to this doll.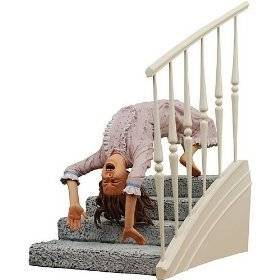 Next stop, Amok Time. I need one of these immediately.
Amok Time Toys says it offers hard-to-find toys, models and comics from your childhood to the present, and that is in no way a lie. Among the soon-to-be-on-my-Christmas-list items are:
A Regan action figure from The Exorcist
The Blood Countess, Elizabeth Bathory action figure
The Mummy – Tomb playset with spring action and ancient sounds
Amok Time Toys is your one-stop-shop for the weirdest collection of movie and TV paraphernalia I've ever encountered And as I clicked around in amazement, I found an action figure of a scantily-clad Megan Fox posing as Leila from the upcoming Jonah Hex movie. You don't say…
Jonah Hex, Pet Sematary, Constantine 2, and Dark Shadows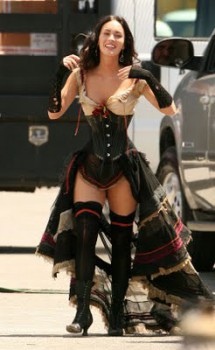 IMDB.com says Jonah Hex, starring Megan Fox and Josh Brolin, is set to be released June 18th.
For those who don't know Jonah Hex is another DC Comics hero, who first appeared in All-Star Western #10 (later renamed Weird Western Tales) in 1972, and moved to his own title in 1977. The original incarnation lasted for 92 issues, until its demise in 1985, and was finally given a modern update in 2005 in a title that continues today.
A synopsis of the movie on IMDB states Jonah Hex is a scarred bounty hunter in the Wild West, tracking a voodoo practitioner bent on liberating the South by raising an army of the undead.
IMDB tagged this as one in the horror genre, so I clicked on the word "horror" and then sorted the results by release date, from furthest in the future backwards.
There to my joy I read that Pet Sematary, the disturbing Stephen King book translated into that horrible 1989 movie, is being remade for release in 2012, with fairly substantiated rumors that George Clooney will star and 1408 screenwriter Matthew Greenberg will be handling the script.
Constantine 2 is also in the works, though reports are conflicting on whether or not Keanu Reeves will reprise his role.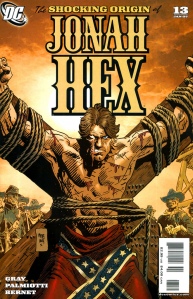 Lastly, I confirmed what I had recently read, that Dark Shadows was in the works, brought to you by Tim Burton and Johnny Depp whose production company Infinitum-Nihi bought the remake rights some years back. Priceless!
But to much to my dismay I also read that one of my top ten horror flicks of all time, The Birds by Alfred Hitchcock is actually being remade by director Dennis Iliadis, who last year brought us The Last House on the Left. What next? A Gone With the Wind remake?
And adding insult to injury, An American Werewolf in London (from 1981) is coming back at us in 2011. Sacrilege! Some classics are meant to remain low-tech.
At this point I'm exhausted and ready to unplug but it's been another strange trudge through virtual reality. I'm always interested in finds like the ones mentioned here, so feel free to post your favorite links and I'll follow where you lead.
For now I need to get busy finishing up with that new, mass-market paperback release coming in April from horror author Douglas Clegg called Neverland. From there I'll be digging into an unlikely story called Blood Oath: The President's Vampire.
Seriously? I'll let you know.